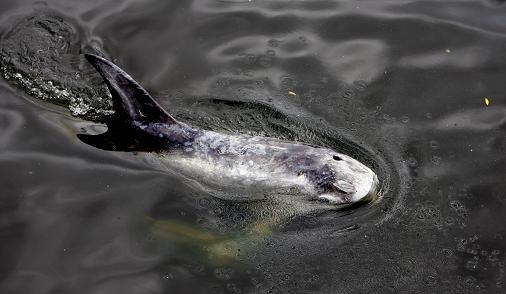 Another marine mammal has washed ashore in the Bay Area, this time a dolphin in San Francisco Bay, and it is likely dead, according to the Marine Mammal Center.
Reports came in around 8 a.m. Tuesday, saying that a stranded dolphin was trapped in mudflats located south of the San Francisco International Airport, marine officials said.
The dolphin, which has been determined to be a Risso's dolphin, was out of reach of rescue units because of low tide conditions, they said.
"Unfortunately, the Risso's dolphin has not moved or changed its position throughout the day on the soft mud," said Dr. Cara Field, staff veterinarian at The Marine Mammal Center. "Since cetacean bodies are not designed to be on solid surfaces, it's unlikely that the cetacean is still alive."
Earlier, a trained responder with the center and three members of the Airport Division at the San Francisco Fire Department used an airboat to try to determine the dolphin's location and size for possible recovery.
This specific dolphin species does not regularly frequent the San Francisco Bay, but people have reported seeing the mammal swimming around the region since Saturday, the Marine Mammal Center said.