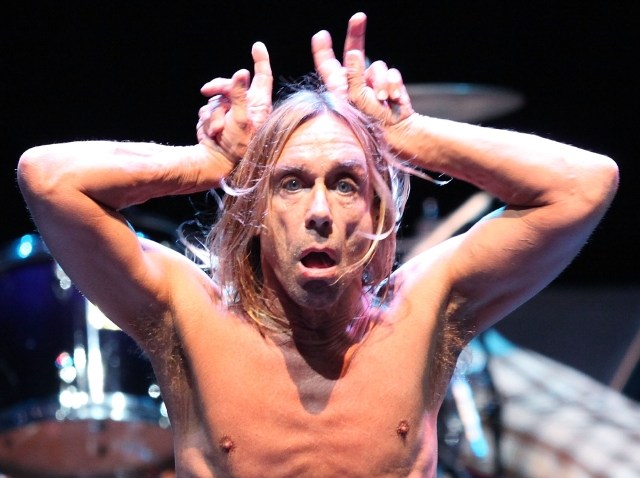 "I saw The Stooges, covered in bruises!" The Dictators, "Who Will Save Rock and Roll?"
What can be said about Iggy and The Stooges that hasn't already been said? They've been pored over by the most revered rock-and-roll press in the 60's and 70's but often despised by the mainstream media at the time.
Iggy's confrontational (on-and-off stage) persona that left him with the title "The Godfather of Punk" is his to claim if he ever wants it. Then there's sex, the drugs, and the Ig's recent Paco Rabanne ad campaign.
The Stooges legend ended in 1975 only to be recounted in photos and books over the years, not to mention by countless impersonators who only claimed the band to be an "influence" (Ugh, don'tcha hate that word???).
Fortunately for fans who have stuck around long enough, Iggy reunited the guys, albeit with new member and punk rock econo-front-lineman, Mike Watt on bass, and even Fun House sax man Steve Mackay, so we have now had the band back since 2003.
A most unfortunate end to The Stooges saga came again in 2009 when original guitarist Ron Asheton died. The man who brought us the unforgettable wailing guitar and heavy riffage on "I wanna be your dog," "1969," "1970," and so many other hard rock gems left the building and joined an all-star band that only exists in the black leather ectoplasm...
Enter once again, The Man in Black, James Williamson.
Is he wearing black because he's been wearing black suits in Silicon Valley since the 80's, or is he the same stygian character who brought us the Raw Power and Kill City albums??? The fact remains: his guitar unleashes the same unmistakable and often copied biting leads and even more copied thunderous rhythms that are all over the records. Aaaaannnnnd, he's a real cool cat on Facebook.
I caught up again with the former V.P., this time at Berkeley's Fantasy Studios where he was taking a tour.
There is no way I can finish this story without wishing Scott Asheton, brother of Ron Asheton and the band's original drummer, a speedy recovery from the health condition that took him off the tour.
So how about the show? Sunday's Warfield performance showed the band in full gain. Iggy still takes the stage like a twenty-year-old trapeze artist in search of sexual gratification. I saw more than just panties flung from the balcony.
Robert Wellington is a staff photojournalist for NBC Bay Area News. He's a dinosaur of a music fan but he somehow manages to hit the clubs in his search for the true cross of Rock and Roll. Sometimes he still picks up a guitar…