San Jose firefighters took three hours to extricate a driver from his car late Wednesday night, after he slammed his Chevrolet Tahoe into a power pole off a major expressway.
Fire officials don't know why the driver veered off the road at 11:30 p.m., slamming into a slammed into a concrete wall on the shoulder of Almaden Expressway near the intersection of Almaden Road.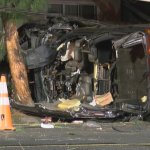 His car flipped over and took down a host of wires, which still lay partially on the road early Thursday morning. The power did go out in the neighborhood, residents said, but was back up by 4 a.m.
Fire officials worked for three hours to get him out safely; they said he was "alert" when he was taken to the hospital.
Both lanes of southbound Almaden Expressway were closed between Rajkovich Way and Almaden Road and O'Grady Drive.