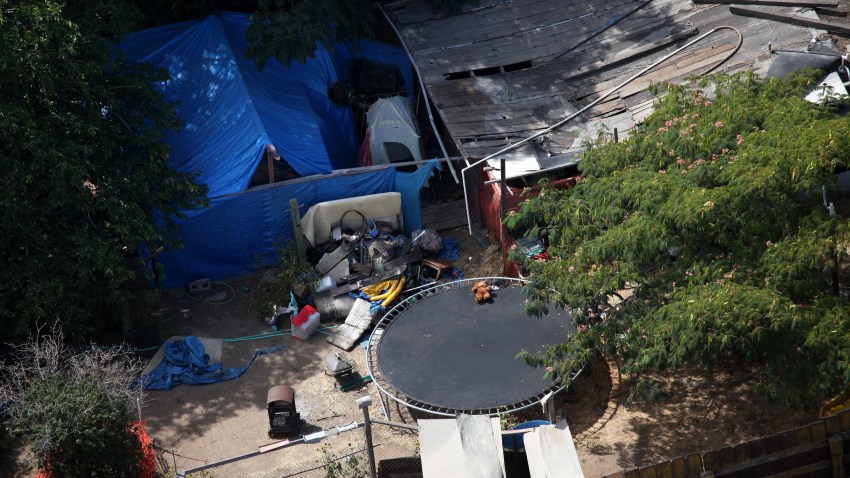 Investigators searching for evidence linking kidnapping and rape suspect Phillip Garrido to a series of unsolved murders may have hit the jackpot: Late Monday, they found a bone fragment on the property next to Garrido's.
The bone fragment was discovered after officials brought cadaver dogs to the property, NBC Bay Area's Jodi Hernandez reported. Officials have not given any details on the fragment, including if it is from a human or animal bone.
Garrido and his wife, Nancy, were charged last week with kidnapping Jaycee Lee Dugard in 1991. They allegedly kept her captive in a backyard encampment of tents and sheds. They have pleaded not guilty.
Garrido ran a printing business out of the Antioch, home.

Customers say the young woman whom they knew as Garrido's daughter "Allissa" designed business cards and helped with the family business.

Garrido's printing business customers described Dugard as a polite and efficient aide who straightened out orders on the phone and by email.
They never suspected that "Allissa" was a South Lake Tahoe girl kidnapped in 1991 at age 11.
Carla Kirkland was a customer of Garrido's printing business and says she spent time at his home. Knowing what she does now, Kirkland says, she wishes she had paid more attention.

"It's heartbreaking to know that I was here four months ago," Kirkland says, "and knowing that something was going on at that house and in the backyard."

Kirkland said she attributed Garrido's behavior to schizophrenia, based on pamphlets he distributed.

"Just knowing the weirdness and the bizarre literature he would leave," Kirkland says, "the things he would say and singing songs. Now that I look back I think -- something was definitely wrong."
Several other business owners described Garrido as odd but said there was nothing to indicate he may also have been dangerous.
Another customer, Ben Daughdrill, said he saw her twice in the last six months when he drove to the Garrido home to pick up office supplies and drop off payment. She had an opportunity to escape or seek his help when she came out alone to his car.

"There was a reason she did not say anything," said Daughdrill.
"The only thing is, it looked like her clothes didn't fit her very well, like they were secondhand," he said.
He said that seemed to fit with Garrido's occasional comments that the family was short on money.
News of Garrido's arrest has left Daughdrill reeling, particularly because Garrido had visited his home several times and crossed paths with his children.
Brentwood real estate agent Carla Kirkland did business with Garrido while working for Delta Bay Mortgage Center in Antioch, and also mentioned that he would pass out religious literature.
She said one time Garrido brought a girl with him to the office.
"He told us she was his daughter and she was learning the business," Kirkland said. The girl shadowed him as he moved around the room, she said.
Kirkland stopped by Walnut Avenue today, where investigators are searching the Garridos' property and a home next door, in part for evidence that would link Phillip Garrido to a series of unsolved murders of prostitutes in Pittsburg and Bay Point in the 1990s.
Standing outside the Garridos' home, Kirkland began to tear up.
"It's kind of hard to know that they went through that," she said of Dugard and her daughters. "Only because I felt I could have paid closer attention when the little girl was at the office."
"It's just very alarming that we missed it," she said. "We came into very close contact and we missed it."
Police in Pittsburg are also investigating whether Garrido had anything to do with the murders of several prostitues in the area.

Police say it could take weeks, even months, to complete their investigation.

Both Phillip and Nancy Garrido pleaded not guilty to 29 felony counts in the Dugard kidnapping case on Friday.
Copyright AP - Associated Press