An oil and gas production company opted to pay $4,351 in additional fines in order to avoid signing a detailed penalty agreement with Alameda County that would have forced the company, E&B Natural Resources, to formally acknowledge its failure to report a hazardous chemical leak at one its oil fields in Livermore.
The county's Department of Environmental Health struck the deal with E&B Natural Resources, according to e-mail messages obtained by the NBC Bay Area Investigative Unit.
While the oil company initially agreed to pay the county-assessed fine of $6,561, e-mail messages reveal E&B wrote the county on October 13th – the very day the fines were due – to offer to pay the full administrative penalty of $10,912, which allowed the company to forego signing the county's penalty agreement.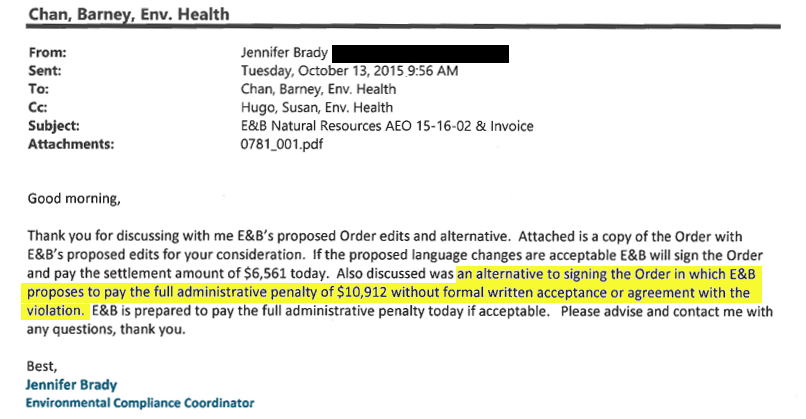 E&B's Environmental Compliance Coordinator, Jennifer Brady, sent the e-mail to the county and described the financial agreement as "an alternative to signing the Order….in which E&B proposes to pay the full administrative penalty of $10,912 without formal written acceptance or agreement with the violation."
As a result, the county increased the penalty amount and sent E&B an updated invoice on October 22nd. E&B was not required to sign the document, which included a revised penalty deadline set for 20 days later.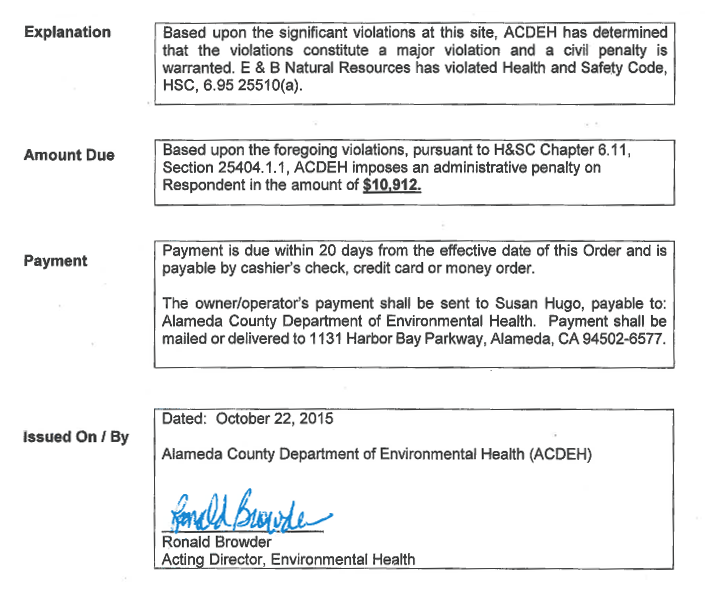 "Based upon the significant violations at this site, [Alameda County's Department of Environmental Health] has determined that the violations constitute a major violation and a civil penalty is warranted," the document stated.
In November, the Investigative Unit uncovered inspection reports that revealed county and state regulators documented concerns – months ago – about possible drinking water contamination as a result of the leak. Residents and farmers in the area were never notified of the potential risk as the county waited on test results from soil and groundwater samples to learn more about the potential risk.
Preliminary ground water test results, released last week, noted that the chemical leak "does not pose a threat to water supply wells or groundwater resources in the area." The report, however, did mention that "further investigation will be conducted to provide additional data regarding the extent of any groundwater contamination." Those results are due to the county by Dec. 21.
E&B Natural Resources previously declined NBC Bay Area's interview request, but in a written statement said it believes the hazardous waste seeped out of an unused oil tank years ago, before the company ever purchased the oil field.
"In late March 2015, when E&B Natural Resources removed an unused storage tank, we discovered oil-stained soil underneath the unused tank. E&B has never used the tank," the statement said. "Any leak occurred prior to E&B's acquisition of the facility in 2006. The company takes full responsibility for cleaning-up the affected soil in a voluntary remediation agreement with the County."