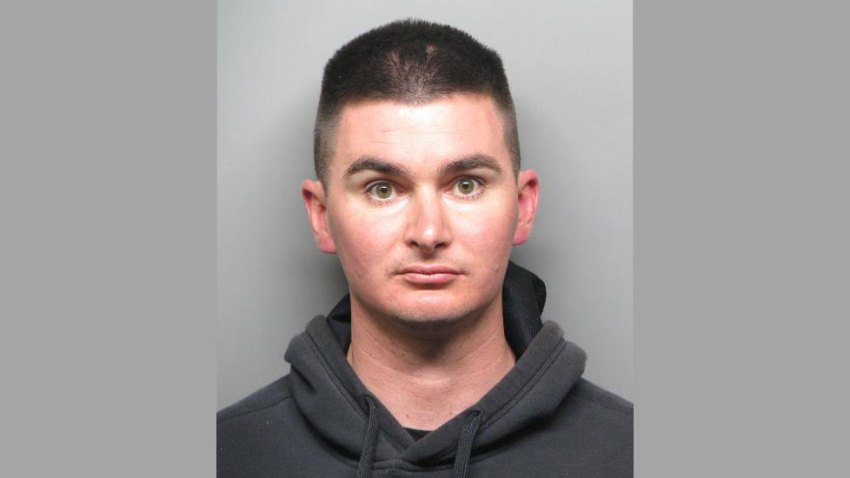 Last March, a former Contra Costa County Sheriff's Office deputy took off his duty-belt and walked into a cell at the West County Detention Facility in Richmond, where he turned off the lights and had unlawful, criminally problematic sex with two female inmates. That much is not in dispute.
After a full day of testimony at the George D. Carroll Courthouse in Richmond on Tuesday, a Contra Costa County superior court judge ruled that former deputy Patrick Morseman will have to stand trial on four counts of felony sexual activity with a confined, consenting adult.
The women, identified in court records as Jane Doe 1 and Jane Doe 2, had been flirting with Morseman while out of their cells for free time on the evening of Friday, March 30, 2018. They asked for permission to hang out in the same cell, which is a violation of the facility's rules, but Morseman told them it would be okay so long as they stayed quiet.
At some point one of them passed the 26-year-old man a note asking if he wanted to have sex. Later that night, he took them up on what his defense has referred to as an invitation.
Questions of consent have been raised about that encounter, as the victims were confined to a cell at that time. Coercive sex is included in the legal definition of sexual assault, but prosecutors did not believe rape charges could be proven beyond a reasonable doubt in light of evidence presented.
Jane Doe 1 wept when she was asked to describe the encounter Tuesday morning in a preliminary hearing at Richmond's George Carroll Courthouse. Judge Clare Maier cleared the room, giving the victim a moment to regain her composure, and the victim subsequently described a sexual experience that left her feeling "scared."
"He pushed (Doe 1) to her knees... for her to have oral sex on him," Doe 2 said later, when asked what she'd observed.
"It was a forceful push," Doe 2 added. "(She) wasn't sure what was going on."
After 15 to 20 seconds, he bent Doe 1 over and initiated vaginal intercourse before "pulling out" and ejaculating on the floor. Doe 2 said that at first it wasn't clear what was happening, but after watching Doe 1 perform oral sex, she had an idea of what Morseman expected of her.
"He just stopped and grabbed me to do the same thing," she said. "I had already seen what happened, so I knew..."
The victims allege that Morseman initiated intercourse with Doe 2, but five or six minutes into the encounter, Doe 1 told him to stop. Morseman left.
"We were in shock, like 'what just happened?' " Doe 2 said.
"There was semen on the floor, so I wiped it up with a (menstrual) pad and put it in a bag," she added.
The women didn't think the other deputies would believe them, so they held onto that evidence until it could be turned over to a lawyer. Prosecutors say the genetic material on the pad turned out to be semen and has since been genetically matched to Morseman.
"Why did you do that?" Deputy District Attorney Jay Melaas asked Doe 2. "Because I knew what happened was wrong," she replied. "That's not supposed to happen to you in jail."
Despite their flirtation, and the note, both victims testified that they did not think Morseman would take advantage of the opportunity.
"We were just toying with him, we weren't really serious," Doe 1 said.
Moreover, once he entered their cell, the victims said they were scared about the consequences of saying no.
Morseman returned to that cell in the early morning hours of Saturday, March 31, 2018, reportedly asking what he could do to "keep them quiet." The victims passed him a note demanding $500 each, deposited into their commissary accounts, as well as cigarettes, a lighter and about seven grams of methamphetamine.
"I had $300 on my books the next day," Doe 1 said. "I normally have some money on my books but not that much."
Investigators would later confirm that Morseman was the individual who made that deposit, and at least one coworker noticed suspicious behavior on the night in question.
"I pulled Patrick aside (and told him that) it's on camera and it doesn't look good," Deputy Kara Leffle said in court.
He was, ultimately, filmed entering the cell and staying there for five to six minutes. An investigation was launched. Morseman was charged in May 2018, and is no longer working at the jailhouse.
In January, Bay Area reporters filed at least one request for documents related to that investigation under the newly implemented Senate Bill 1421 - which sought to make investigative records of peace officer misconduct available to the public. The Contra Costa County Sheriff's Office issued a response claiming to have "no records responsive to (that) request."
The defendant did not take the stand Tuesday, but during cross-examination defense attorney Melissa Adams got Doe 2 to admit that in the weeks leading up to "the incident", she and Doe 1 had discussed the possibility of financial compensation for having sex with a male deputy.
Adams also asked multiple witnesses if Doe 1 had a reputation for flirtatious behavior. That line of inquiry was met with objection from the prosecution, which Judge Maier sustained.
In her closing arguments, Adams called Doe 1 a "ring leader" who had identified Morseman as a weakness that could be exploited, citing the evening's flirtation and the "invitation note."
Adams pointed out that the violation in question, California Penal Code 289.6, is a so-called "wobbler" which specifies consensual sex. It can be charged as either a misdemeanor or a felony, and she asked the court to reduce the charges against her client to misdemeanors.
The prosecution pointed out, in response, that Morseman was well aware of the criminal statute barring him from engaging in consensual sexual activity with inmates. He had signed a document acknowledging that fact. It was found in his personnel file.
Melaas called the alleged conduct "highly egregious", saying that multiple crimes had been committed against multiple victims and there was no prior relationship history between them.
Putting questions about the victims' reputations and intentions aside, Maier focused on the nature of charges. At minimum, the defendant left other deputies at risk by taking off his duty-belt to seek out sexual gratification while supposedly on the job.
"Morseman was engaged in an extremely dangerous distraction," Maier said.
"The court acknowledges that both victims were flirtatious, and possibly invitational," she explained, but added that Morseman was in an extreme position of authority and trust as an on-duty jailhouse deputy.
Questions of whether the victims sought out or enjoyed the sexual encounter are not relevant to the court, Maier ruled.
Maier ordered Morseman to stand trial on four counts of felony sexual activity with a confined, consenting adult, including two counts of oral sex and two of vaginal intercourse. It's not yet clear whether a conviction on those charges would require him to register as a sex offender in the future.
Morseman returns to court May 13 at 1:30 p.m. in the court of Judge Patricia Scanlon, Dept. 3 of the A.F. Bray Annex at 1020 Ward St., in Martinez. He turns 28 on Wednesday, April 24.
Copyright BAYCN - Bay City News