Catherine Martinelli-Banks has a confession to make.
She is a much better veteran than she ever was an active-duty Marine.
"That's absolutely true," Martinelli-Banks said. "I kept my company gunny and first sergeant busy," during her time in the Marine Corps in the late 1980's and early 1990's.
If Martinelli-Banks' superiors could see here now, though, they would some someone doing an exemplary job helping other veterans.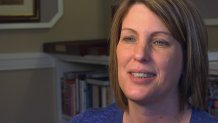 Martinelli-Banks, who works in the mortgage industry, spends untold hours of her free time doing what she can to help those who have served their country. From organizing financial seminars, to administering private Facebook groups, to lobbying in Washington, DC, Martinelli-Banks is non-stop.
Her latest venture is an attempt to raise $150,000 to help make the home of a Marine who lost both his arms and legs to an IED in Afghanistan in 2010 more accessible.
"Why? I don't know. I just have to," Martinelli-Banks says. "I won't feel complete if I don't reach out and see if there is anything I can do."
It is a far cry from who Martinelli-Banks says used to be. In the early 2000's, more than a decade after her service, Martinelli-Banks described herself as a single woman "living in Orange County, driving an Escalade, and shopping at Nordstroms every day."
So what changed?
Well, is started with a single phone call from Soledad Jackson in 2004.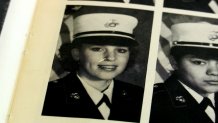 Jackson, also a Marine, had been Martinelli-Banks' roommate while at Camp Pendleton in the late 1980's. Unlike Martinelli-Banks, tough, Jackson was still active duty when the Iraq War began. She was told she would be deployed to the war zone for up to one year.
Though the two had only spoken sporadically over the years, Jackson had a big favor to ask of Martinelli-Banks.
"I asked her if she could come to North Carolina from San Diego to look after my kids while I was gone," Jackson said.
It was a mission Martinelli-Banks could not refuse.
"I had two cats at the time, so I packed the car and the three of us drove out."
Martinelli-Banks spent the next eight months caring for Jackson's two children, and eight-year-old girl and a seven-year-old girl.
Jackson says can still not thank Martinelli-Banks enough for what she did, giving her peace of mind while fighting a war.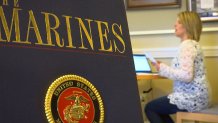 Martinelli-Banks, tough, believes she got just as much out of the experience. It is helping that one fellow Marine that sparked in her desire to do even more.
"Soledad says that I've helped her and it's like, I think you really saved my life and it was and just from doing that it gave me just a whole new purpose."