Janet Frazier is not a magician.
She's actually a marketing coordinator at Chevron. Still, Frazier is a woman with a few tricks up her sleeve. Like the time she turned a single act of kindness into more than 200,000 of them.
"It's a wonderful tribute to Stephanie," Frazier said.
Stephanie is Frazier's daughter. In December 2000 Stephanie and her younger sister, Lindsay, were in a car crash on Highway 50 on their way to Lake Tahoe. Stephanie died. Lindsay was seriously hurt.
Frazier rushed to the hospital to be by Linday's bedside. She wouldn't leave it for days, not even to eat. On the second day, Frazier stood up and fell to the floor, almost fainting.
"A nurse had me sit in a chair outside of the room left and came back with her sandwich in her hands and said, take a few bites," Frazier said. "I will never forget that feeling of somebody doing something so nice in the face of just a horrific time."
Frazier was so inspired by that nurse's gesture, she began filling snack bags for patients' families and delivering them to a local hospital. "I absolutely thought that it would just be one hospital. I thought, I never thought it would grow like it did," Frazier said.
As word spread among the medical community of what she was doing, though, other hospitals asked if they could receive the bags as well. It has blossomed into The Network Of Care, a non profit now working with 60 Bay Area hospitals and recently delivered their 200,000th snack bag.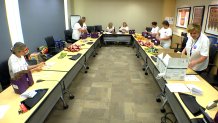 Teams of volunteers made up mostly of Frazier's Chevron coworkers help keep the pipeline full of purple bags (Stephanie's favorite color) filled with snacks and decorated with a butterfly (also a Stephanie favorite).
Felicie Standly, a social worker at UCSF Benioff Children's Hospital Oakland, has delivered more than a few of the bags to some very grateful parents.
"They are just like, 'Great, this is such a lifesaver,'" Standly said.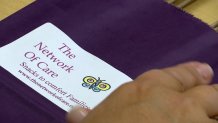 Frazier says she is incredibly proud of what she and her team of volunteers have accomplished over the years. She also feels it's an example for the rest of us: that good can come even from life's darkest moments if we allow it to.
"There's so much love in this world and there's so many things you can do for other people that are really basic."