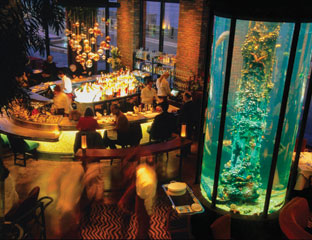 Sip Starbucks lattes, eat steak, and have expensive dim sum -- just like alleged corrupt officials do!
The criminal complaint against state Sen. Leland Yee reads like a "crime novel" -- or a restaurant guide, observed the San Francisco Chronicle, with many of the city's well-known dining and drinking spots serving as meeting places for alleged wrongdoing

The newspaper's food columnist Paolo Lucchesi has compiled a Walking Tour for fans of criminal intrigue and political drama. It takes the interested through the Chinatown underworld, to high-end steakhouses -- and to Starbucks.
Here's a recap of what went down where:
*New Asia Restaurant, 772 Pacific Avenue: if you drank some Johnnie Walker Blue Label Scotch whisky here anytime recently, you may have drank some stolen whisky -- sold to the eatery, which is owned by Hon Keung So, who is named in the indictment.
*Yank Sing, 101 Spear Street: the well-known dim sum spot is where the undercover FBI agent met with Raymond "Shrimp Boy" Chow, the alleged Chinatown mobster who worked with Yee, to arrange money laundering.
*Waterbar, 399 Embarcadero: Here's where the agent met with political consultant Keith Jackson, also named in the complaint, who accepted a $10,000 bribe to retire Yee's campaign debt. Yee also met the agent here for drinks, according to the Chronicle.
*Alexander Steakhouse, 448 Brannan Street: A second undercover FBI agent met with the first mole, Yee, and Jackson to discuss more bribes at the upscale steakhouse.
*Roy's Restaurant, 575 Mission: At the Asian fusion landmark, the heaviest of talk went down. It's here where the talk about buying weapons from a "Filipino associate" involved with rebel groups happened -- and, of course, where a $1,000 cash bribe was received.
*Starlight Room, 450 Powell: The bar in a Union Square hotel is where Chow received $2,000 in cash from the FBI agent.
And to wash it all down: at the Starbucks in the Marriot Marquis at 780 Mission Street, the FBI agent told Yee and Jackson that he wanted to go big in medical marijuana.
Copyright FREEL - NBC Local Media