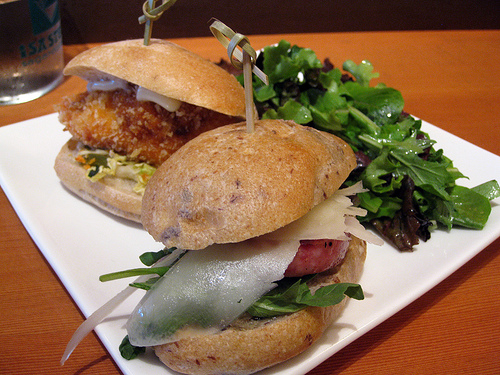 Tapas are one of my favorite cuisines: they lend themselves perfectly to a communal meal and more importantly, they're delicious.

But I've never thought of tapas as a lunchtime food. Most tapas meals I've shared spanned the course of a few nighttime hours – a nibble here, a glass of sangria there. When my colleagues told me about Bocadillos, a Financial District tapas spot that sees a rush during the weekday lunch hours, I knew I had to reconsider my stance.

The term bocadillo refers to a small baguette sandwich and my favorite thing about lunch at Bocadillos is that you can choose two from their menu, alongside a green salad. Think of it as traditional tapas remixed with the more typical sandwich and salad set. My favorite are the fried chicken with spicy coleslaw bocadillo and the Catalan sausage with arugula and shaved Manchego bocadillo.

The fried chicken sandwich is served cold, which is perfect since it cuts into the coleslaw's kick. This is my favorite kind of coleslaw: more vinegary than mayonnaisey. The mild-tasting Catalan sausage is served warm, which helps wilt the bitter arugula and melt the salty Manchego just a tiny bit. I'd never tried Catalan sausage before I came to Bocadillos, but now I've been keeping my eyes for some so I can try cooking it at home.

Service is brisk but very friendly at Bocadillos, which is extra appreciated since this place gets really busy. If you don't mind rubbing elbows with your fellow FiDi'ers and sharing your space during your lunch hour, try this place out. Tapas are an all-day affair, as it turns out.
Mariam Hosseini is a Bay Area native who has been writing about food and travel for six years. She blogs regularly at yogurtsoda.com.