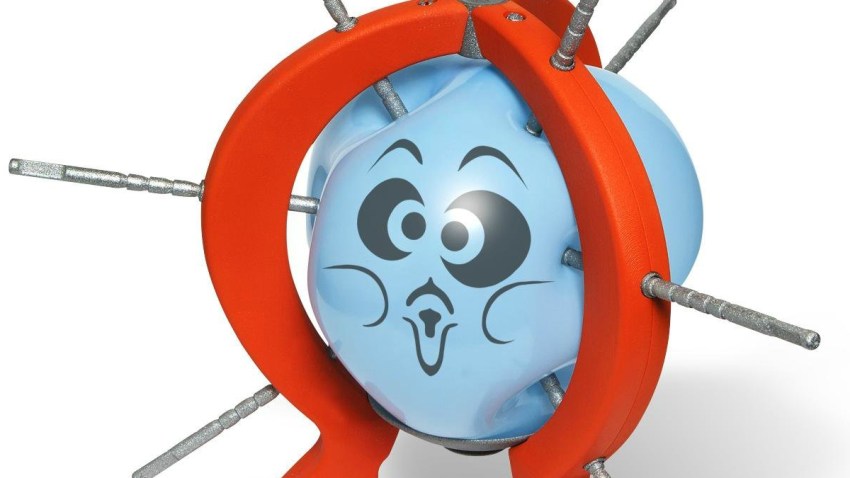 After playing with several children's toys this holiday season, we decided to purposely stick with low-tech options. They're fun, of course. And most importantly – they work.

The remote controlled airplanes, levitating balls and fancy sonic spy gear we tested, didn't fly well or didn't have enough juice to last without incurring some tantrums from frustrated users.

So, this year, NBC Bay Area's hot toy picks is focusing on board games, rubber bands and some classics.

BOOM BOOM BALLOON: This game is loads of fun and very simple. Try to poke plastic sticks into a balloon without having it pop. Need we say more? Pretty much anyone can play.
PHOTOS: Gift Guide, Fab Finds Under $50
JACKS: The game of jacks - ten spiky objects and a bouncy rubber ball - is all the rage on the playgrounds, and kids are even more amazed when Mom knows how to play. They're cheap and can be found most anywhere. Ages 6 and up.
HEADBANDZ ACT UP: This is a charade-like game where players guess what word is strapped to their head when their fellow players act out the words. Watch here, how to play. Ages 8 and up.


RAINBOW LOOM: This is the 2013 version of silly bands but better. There are different brands, but Rainbow Loom is one of the most popular. Because instead of just putting colorful rubber bands around your wrist, these creative toys lets kids crochet their own necklaces, bracelets and rings. Kits cost about $15 at craft and big box stores. Individual band bags can be bought separately. Ages 6 and up. A girl named "Ashley" gives tutorials on how to make these bracelets, which are wildly popular. In this one, more than 3 million people have viewed her YouTube instructions.



PLAYMOBIL: If you want to let your child's imagination soar, go for the old-school favorite, Playmobil. The seemingly endless variety of sets, from Egyptian mummies, Civil War soldiers and princesses to farms, zoos, World Cup soccer, police and fire and rock band sets, means you can find a sure hit for almost any child aged four and up. They can create elaborate scenarios with the kits or even just a figure or two. The figures, just the size for little hands and with faces drawn in a childlike way, are a great thing too to throw in your bag for entertainment at a dinner out or on a long wait at an airport.
Check out this Playmobil video for some inspiration:




EDITOR'S NOTE: We're always open to hearing about new great toys, high tech, or low tech. Please write us in the comments section if you have some suggestions.