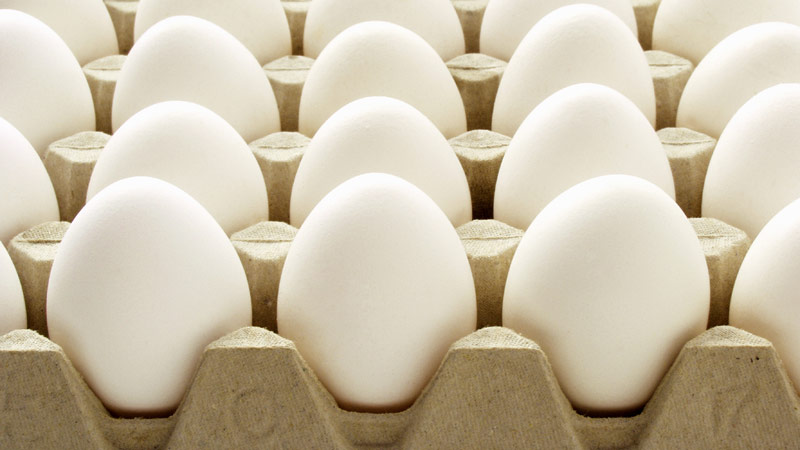 An egg recall issued earlier this week has expanded.
More than 380 million eggs from Wright County Egg in Galt, Iowa, are now under recall after an outbreak of salmonella that's affected people from California to Minnesota.
The recalled shell eggs are packaged under the following brand names: Lucerne, Albertson, Mountain Dairy, Ralph's, Boomsma's, Sunshine, Hillandale, Trafficanda, Farm Fresh, Shoreland, Lund, Dutch Farms and Kemps.
Investigators with the U.S. Food and Drug Administration (FDA) are on-site reviewing records and inspecting the company's barns.:
"The birds themselves aren't sick, so the farmer doesn't even know what's going on," said Christopher Braden explained. "And in the meantime it's producing eggs that look clean and fine."
California has reported 266 illnesses since June and believes many are related to the eggs.
The investigation revealed several restaurants or events where more than one ill person with the outbreak strain has eaten, according to the CDC.
The FDA advises you to return the eggs where you bought them.
If you're eating eggs at home, the CDC recommends cooking the eggs so both the white and yolk are firm.
Other practices to avoid, according to the FDA:
Avoid restaurant dishes made with raw or undercooked, unpasteurized eggs. Restaurants should use pasteurized eggs in any recipe (such as Hollandaise sauce or Caesar salad dressing) that calls for raw eggs.
Keep shell eggs refrigerated at ≤45˚ F (≤7˚ C) at all times.
Do not keep eggs warm or at room temperature for more than 2 hours.
Initially, 228 million eggs, or the equivalent of 19 million dozen-egg cartons, were recalled but that number was increased to nearly 32 million dozen-egg cartons.
The most common symptoms of salmonella are diarrhea, abdominal cramps and fever within eight hours to 72 hours of eating a contaminated product. It can be life-threatening, especially to those with weakened immune systems.

Copyright AP - Associated Press