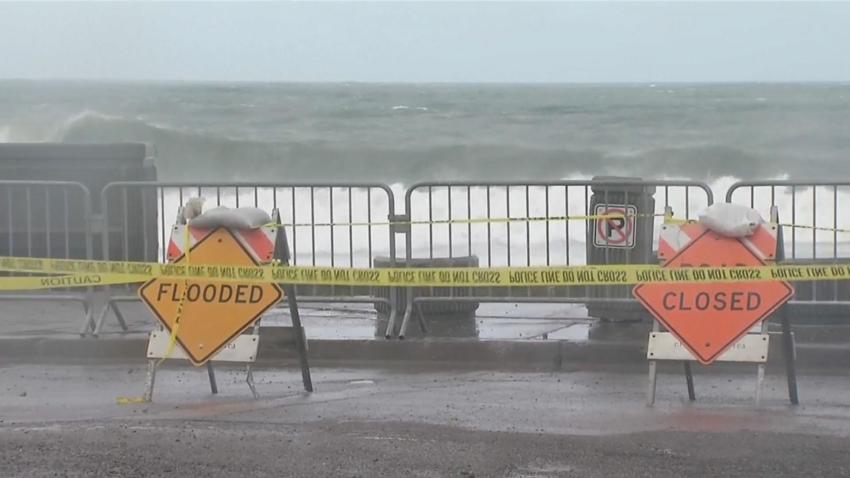 While the East Coast struggled to cope with a blizzard this weekend, Bay Area residents tried to stay dry as regions were slammed with heavy rains, racing winds and giant waves.
Ben Lomond Mountain in Santa Cruz County recorded 4.01 inches of rain between Thursday and Saturday, while a gauge along Summit Road in Santa Clara County recorded 3.99 inches during the same period.
Mount Diablo in Contra Costa County received 2.37 inches while the southeast side of Fremont in Alameda County received 1.71 inches. San Rafael saw 1.02 inches and Mount Saint Helena in Napa County saw 2.09 inches.
The Peninsula experienced some heavy storms and racing winds. One gust was apparently so strong it caused a giant redwood tree to come crashing down near La Handa.
Meanwhile, in Pacifica, the eroding cliff caused by high turf and stormy weather was granted a reprieve Sunday, as the waves were smaller than they had been earlier in the weekend.
Nearby residents, however, are still being advised to stay out.
Pacifica locals told NBC Bay Area that they had been forced out of their homes.
On Friday, the city manager declared a state of emergency for Pacifica, which is the first step toward getting state and federal assistance for rebuilding. On Monday, the city council will give a full damage assessment.
San Jose seems to be taking note of the damage to the Penninsula. The city on Sunday held an emergency preparedness fair, in which early guests were given free supplies and city leaders talked to homeowners about how to mitigate losses in the event of a storm.
Meanwhile, downtown San Francisco received about a half an inch of rain.
National Weather Service Meteorologist Roger Gass said the Bay Area will be dry at least through mid-week. The next storm is expected to move into the North Bay Thursday night and then San Francisco on Friday into Saturday.
Gass said it's hard to say how much rain the next storm will bring, but the rain will be widespread.
Much of the Bay Area has approached 100 percent of normal precipitation for the water year, which starts Oct. 1 and ends Sept. 30, Gass said.
In January alone, much of the Bay Area is at 180 to 200 percent of normal precipitation. Downtown San Francisco is at 205 percent of normal, Gass said.
Copyright BAYCN - Bay City News