Hear more from Sandberg — including what she has to say about the "Lean In" debate and girls and geeks and workplace in equality – on the next "Bay Area Revelations." Our Emmy-award winning documentary series on the untold stories of the bay area. "Women Game Changers" airs Saturday, May 13 at 10 p.m. after Saturday Night Live.
Facebook COO Sheryl Sandberg is no stranger to obstacles. The 47-year-old self-made billionaire shares her personal journey of coping with her husband David Goldberg's sudden death in a new book that came out Monday.
"Option B: Facing Adversity, Building Resilience and Finding Joy," was Sandberg's way of dealing with her grief — and healing. The book focuses on how Sandberg coped after Goldberg died suddenly while on vacation with her at the Four Seasons Hotel in Punta Mita, Mexico in May 2015.
"No one's life is perfect," Sandberg said, during an interview at the Facebook headquarters. "Some of the traumas are big like losing a husband suddenly and some of the traumas are small, but we all face them and Option B is about what we do for ourselves and what we do for other people to build our resilience and find the path forward."
Sandberg was forced to find a new path after her husband's death. Suddenly, she was raising two kids on her own, while serving as one of the world's most powerful executives.
Sandberg says many things have changed for her over the last two years, including her gratitude.
"It's so ironic to go through something as traumatic as losing a husband and find a greater appreciation for basic things than I had before," she said. "But, until Dave died, it never occurred to me that they could die. Which means it never occurred to me that I could die, or my kids could die, now as much as I miss Dave and the grief still comes and goes – I appreciate every year in a way I didn't before."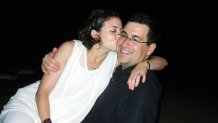 Overcoming hardship also comes with the help of others. In her book, Sandberg says instead of offering to do "anything," offer to do "something."
"My friend was in the hospital with a sick child and a friend texted him and said, 'What do you not want on a burger?' or 'I'm in the lobby for a hug for the next hour, whether you can come down.' Doing something to help people who are facing adversity can be so helpful and making that something specific."
Sandberg says rebuilding her self-confidence was difficult. Her co-author, Adam Grant, gave her some simple advice.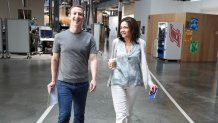 "At the end of every day, write down three things you did well," she said. "I was like 'three things I did well:' made tea, had less soda, right?' But, writing down three things I did well actually forced me at the end of every day to focus on things that went well."
"Option B" follows Sandberg's best-selling "Lean in" book about women in the workplace., which launched a worldwide debate on the topic of women's leadership.
NBC Bay Area's Revelations team was the only local television crew to talk to Sheryl Sandberg a few weeks ago about her latest book project: "Option B." Excerpts from the interview can be found online.