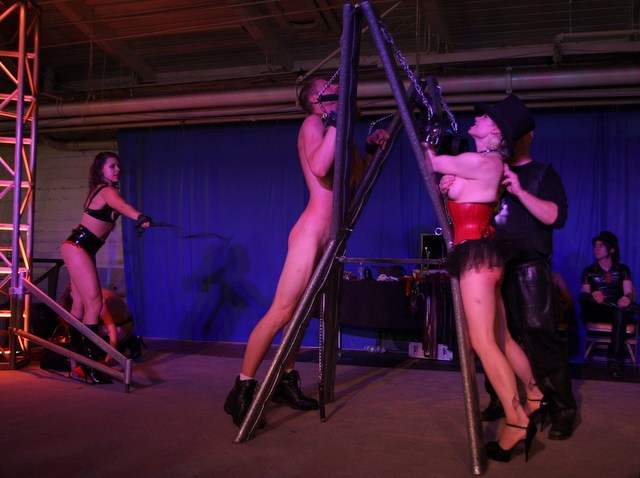 The Exotic Erotic Ball is one of the only social occasions where it is appropriate to wear an inflatable sex doll as a fashion accessory.

It's a place where most of the wardrobe malfunctions are planned.

In fact, there are wardrobe malfunctions going on everywhere and things spilling and flopping out right and left. That's why these people are here.

For thirty years the Exotic Erotic Ball has been where Bay Area kinksters come to get their freak on.

It's a place where a woman who's a real estate executive in Vallejo by day can engage in casual public exhibitionism on the weekend.

On the way into the Cow Palace I passed the longest white stretch limo Jaguar I've ever seen in my life and a pair of broken handcuffs laying on the ground.

Just inside the front door, was a man wearing a penis-shaped hat that went with his testicle earrings.

Then we met two guys who were naked except for pizza boxes around their waists. One had a chest tattoo that read Est. 1984. The other pizza guy had I Got A Tattoo tattooed across his back.

Beautiful witches walked by with their boobs hanging out. Laser light shows and booming house music echoed from a nearby stage.

Then I saw a woman dressed as the devil atop the shoulders of a dwarf riding a scooter. At that point I realized I wasn't in Kansas anymore.

Danny Bonaduce judged the costume contest. The vibrating rabbit costume, an eight-foot tall two-legged vibrator, took first place.

The topless woman dressed as a birthday cake was also a crowd favorite.

A man in a nine-foot tall robotic Transformer costume won Honorable Mention. His costumed legs were so big he could barely fit up the stairs to the stage.

Missing Persons played.

Against one wall was a boardwalk-style game of skill where darts were thrown at an inflatable sex doll on a board twenty feet away.

There were lots of bikini cheerleaders, latex nurses, and portly suburbanites ladled into skintight satin. Some outfits were just a few leather straps in strategic places.

The Exotic Erotic Ball is really just a big costume dance party, a more civilized version of Halloween in the Castro because the high ticket prices weed out the riff-raff.

Sure, there are bands playing, in fact, during Coolio's set they had dancing girls shoving hypodermic needles into their nipples onstage.

But at this show it's really about the audience. In fact, the dance floor was strangely empty because most of the crowd was parading about in the well-lit hallways where they could be seen and photographed.

There, superheroes mingled with Romans and drag queens. A topless Pocahontas in a wheelchair rolled past Kiss clones, women in veils, and men in leather masks.

We met a man in a floor-length white fur coat with Christmas tree lights sewn into it twinkling like a human firefly.

Even thought it was the thirtieth anniversary, the crowd was smaller than usual, probably because of the economy.

I expected the attendance to be guy heavy but for the most part it was couples... kinky couples who like to go out and show off in public. And everyone was taking pictures of each other.

There was an Expo selling adult toys, vibrators, and phallic lollipops.

I saw rock legend Blag Dahlia dressed in a yellow pimp suit emceeing a striptease. The S and M display was epic.

There were more than just San Franciscans there, in fact, I talked to people from all over the place, and I realized that the Exotic Erotic Ball was a true portrait of our local diversity. This was the entire Bay Area, just with barely any clothes on.

Jon Longhi left the Exotic Erotic Ball thinking that this was one of the silliest and most entertaining things NBC ever had him cover.