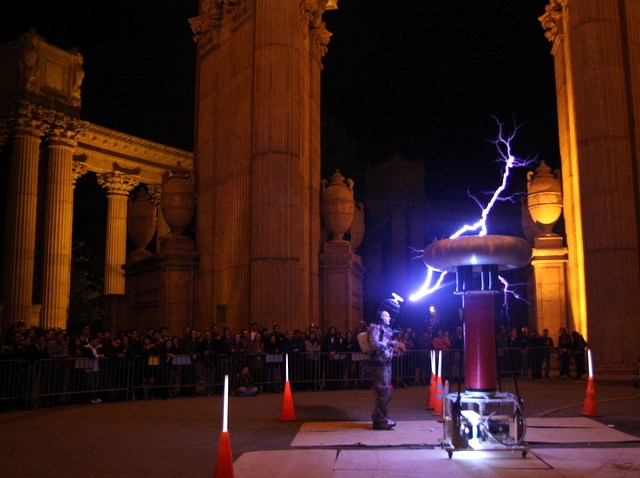 One of the coolest museums in San Francisco is now over the hill.
The Exploratorium, a hands-on science museum located at the North end of town in the beautiful Palace of Fine Arts, has turned 40.
To celebrate, the public was offered a freebie weekend with a host of special events starting with Thursday night's Exploratorium After Dark.
The first Thursday of each month the Exploratorium is turned into an adult-only playground complete with cocktails, music and special exhibits. The night comes with the fringe benefit: no children will cut in line as you try out all of the cool hands-on exhibits.
Each month, a theme is presented with artists and special exhibits brought in to go with the Exploratorium "After Dark" motif.
November is "Electrifying Science" month featuring Dr. Megavolt. Dr. Megavolt is a guy who dresses up in a metal outfit and walks around a Tesla coil with high-voltage electricity zapping him every few seconds. He set up his show under the Palace of Fine Arts Dome, just outside of the Exploratorium doors.
I can't imagine what the Marina neighbors were thinking as the ear-splitting sounds of electricity zapped Dr. Megavolt. It sounded like a freight train was running right down Baker street.
One of the coolest things about the event was that anyone could walk right up and watch that part of the show for free, skipping the $14 cover charge. It should be noted that for only $25, you can become an After Dark member and get free admission for a year of After Dark programs.
Dr. Megavolt uses all kinds of props for his show, including a supersoaker that shoots water right near the coil setting off volts of blue energy reaching out for the water. He holds florescent light tubes in his hands and as the electricity touches his body, the lights light up.
He also spins flaming poi that the Tesla coil reaches out and grabs, as well as riding a bike around the coil getting zapped all the way around. Very strange, funny, and super cool. A sight and sound not to be missed, perfect for a museum like the Exploratorium.
There are a bunch of other interesting events happening throughout the celebratory month including a conversation with award-winning science writer K.C. Cole who will share tales from her new book about Frank Oppenheimer the founder of the Exploratorium (on Sunday November 15, 2009 at 3 p.m.).
Next month's After Dark program is called: Fire and Ice and it will have everything from fire sculptures and experiments to live ice sculpture carving by award-winning ice sculptor David Fong. The date for that is Thursday, December 3, 2009, 6 p.m. to 10 p.m.
San Francisco's nighttime, adult-only, museum going crowd is pretty well taken care of I'd say with Friday Nights at the de Young, and Thursdays at either NightLife at the California Academy of Sciences,or Exploratorium After Dark. Now if only there was something to do in this city the other nights of the week.
is the latest in fun ways to geek out in the city while getting your drink on and not having to battle kids or tourists.