After our major wildfire season and the worsening drought, we finally got much needed rain but the event was certainly extreme. The past week brought historic rain to the Bay Area, especially on Sunday, Oct. 24 with a strong Atmospheric River. Rain totals with three storms in seven days ranged anywhere from 2.72 inches in San Jose to 10.96 inches in Santa Rosa and even as high as 26.91 inches in the mountains at Middle Peak. Overall, much of the Bay Area averaged five times our normal monthly October rain in just seven days.
So the big question, what did this do for our reservoirs? You'll be able to see in the data below, one week ago and the comparison to after the storms. We certainly made the biggest increase over the North Bay where reservoirs are up by an average of 17.27%! East Bay reservoirs also saw a boost of 4%. South Bay reservoirs didn't increase as much since rain totals weren't quite as high over Santa Clara County.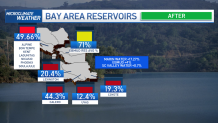 So, what caused this extreme rain event? While the Atmospheric River is what brought the rain we have also started to see La Niña return which can enhance our rainfall season. Since 1950, all La Niña events have averaged 84% of normal rain. Now, last year La Niña was also present but unfortunately didn't bring us to those levels. However, 27% of times La Niña has brought above average rainfall trends. So, there's a chance La Niña could actually help us see increased rain this year. It's something we'll be watching as we head into Winter.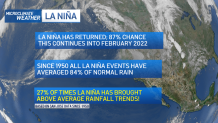 We're also tracking new data that shows if temperatures keep warming, extreme rain events like Atmospheric Rivers could become more common. So, less frequent storms but when they do happen they could bring stronger Atmospheric River chances. So, climate change and our emerging La Niña could be to blame for the historic storm we all experienced last week.
The good news, IPCC climate study this year shows we can all make a difference and lessen these consequences with substantial cuts in emissions and greenhouse gases. This is something we can all participate in by lowering our carbon footprint.
You can find out more about our changing climate and all of our stories in this link.