A tech giant along the Peninsula is taking steps to turn its campus into a virtual town.
Facebook unveiled details of a plan on Friday to redevelop a 50-acre plot of land in Menlo Park's Belle Haven neighborhood into a village.
The proposed land, currently known as the Menlo Park Science and Technology Park, is walking distance from Facebook's world headquarters.
If the city council approves the plan, Facebook will build housing, public parks, shops, and a grocery store. The plan also includes a new transit center.
"The region's failure to continue to invest in our transportation infrastructure alongside growth has led to congestion and delay," wrote John Tenanes, the vice president of Facebook's global facilities and real estate.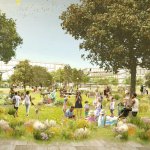 Tenanes said it plans to file its request to Menlo Park this month, which includes plans to develop 125,000 square feet of new retail space and 1,500 housing units, including 225 units offered below market rate.
San Mateo County, where Facebook is located, has experienced extreme decreases in available office space in recent years with mature companies like Amazon and Google also announcing expansion into neighboring cities.
The announcement comes just two years after Facebook last expanded its headquarters in Menlo Park.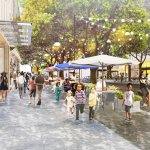 "Our goal for the Willow Campus is to create an integrated, mixed-use village that will provide much-needed services, housing and transit solutions as well as office space," Tenanes wrote.
The development of the housing and retail space is expected to be completed by 2021.
"I am excited about the amenities as well for all of our residents," said Menlo Park Mayor Kirsten Keith. Keith said her main concern with the proposed plan is increased traffic in an already congested area.
"Eighty percent of the traffic on Willow Road is cut through traffic so if we can build more housing that going to help with traffic and transportation issues," she said.

But some neighbors fear 15 hundred housing units won't be enough to shorten their evening commute.
"No more office, no more nothing," said Adelina Garcia, a neighbor.
While some plan to fight the development, others are eager for any construction project that involves a grocery store.
The first step in the process will be an environmental impact report which is expected to take a year and a half.
After that, the city council will have to approve the plan before construction can begin.