Tech companies Google and Facebook were up early Friday morning, putting together their massive floats for the 44th annual LGBT Pride Parade and Celebration this weekend in San Francisco.

"Yes, there are definitely more tech companies this year," said Brie Giordano, standing on Pier 54 atop the Google float. "The bigger, the better."
Ahead of the Sunday parade in San Francisco, Facebook headquarters in Menlo Park was decked out in everything rainbow -- as seen in an aerial photograph taken by a camera attached to a drone floating above the campus.

Facebook's Menlo Park campus seen overhead with a drone camera is decked out ahead of the LGBT parade in San Francisco. June 2014.
The LGBT@Facebook page was full of "likes" as the company added more photos and information about this weekend's events.
But while these Silicon Valley giants have participated over the last several years in the San Francisco event -- it's the nation's largest LGBT gathering with more than 1.5 million people -- the mainstream companies participating in Pride events around the rest of the country is spreading, too.

From Starbucks to eBay to Macy's, the increasing visibility of corporations at the parade -- including, this year, in the once-unlikely locale of Salt Lake City -- comes as same-sex marriage bans fall in the courts and polls show greater public acceptance of gay marriage. Thursday marked the one-year anniversary of the Supreme Court ruling that effectively overturned Prop. 8 in California.

In that climate, companies are finding that the benefits of sponsorship outweigh the risks of staying away, giving them a chance to make a statement in support of diversity and use it to help recruit and retain top talent who want to work for a business that supports LGBT rights.

This weekend, some of the nation's largest gay pride events are scheduled, including ones in New York, San Francisco and Chicago. They come just days after a federal appeals court ruled that gay couples in Utah have a constitutional right to marry, in the first federal appeals court ruling yet on the issue nationwide.

At many companies, support for pride parades and festivals is being fueled by internal lesbian, gay, bisexual and transgender councils that are given small budgets and freedom to spend that money where they choose.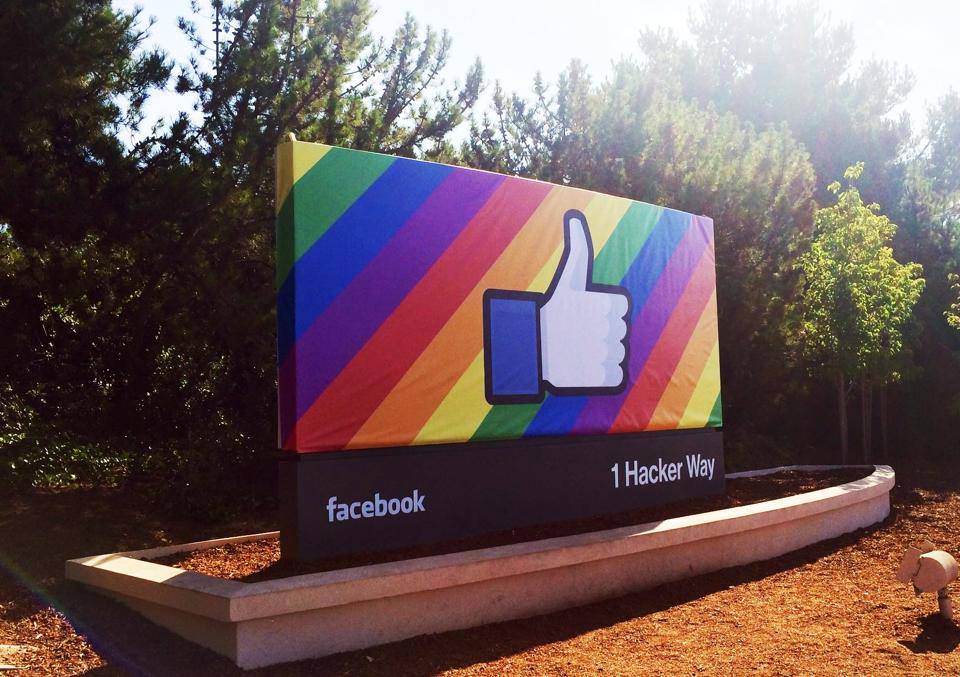 The purchasing power of the U.S. gay and lesbian population was estimated to be $830 billion last year, up from $610 billion in 2005, according to a study by Witeck-Combs Communications, a marketing firm specializing in the gay marketplace.

The number of corporate sponsors and cash donations has doubled in the last seven years for the Utah festival. This year, cash donations reached $97,300, with much of that coming from 36 corporate donors, said Jen Parsons Soran, sponsorship director for the Utah Pride Festival.

In Boston, more businesses sponsor each year, leading to $143,000 in cash donations this year, a rise over recent years, but still less than the $186,000 in 2004, when there were fewer sponsors but larger donations, said Sylvain Bruni of Boston Pride, a group that organizes the parade.

Wal-Mart is joining in, too, sponsoring the New York parade -- a decision made by stores in New Jersey, said spokesman Randy Hargrove.
Facebook sign covered in a rainbow ahead of San Francisco's Pride parade. June 2014.
These companies are doing what Silicon Valley giants have already been doing now for years.

Google sent about 1,400 employees to San Francisco's parade last year, up 40 percent over 2012, according to the Wall Street Journal. And Facebook CEO Mark Zuckerberg marched in the San Francisco Pride Parade alongside about 700 employees, up from about 70 in 2011, according to the Journal.

This year, for the first time since expanding to New York in 2008, BetaBeat noted that Facebook will have a contingent in the city's famed Pride March this Sunday.
For more information on SF Pride, click here.


NBC Bay Area's Stephanie Chuang, and Associated Press writers Brady McCombs, David N. Goodman and Corey Williams in Detroit, Denise Lavoie in Boston, and Thomas Piepert in Denver contributed to this report.