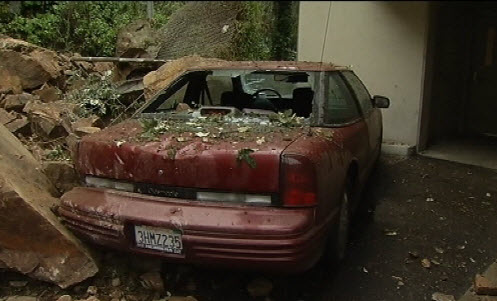 A rock slide near San Francisco's Telegraph Hill crushed a car and caused the partial evacuation of an apartment building Monday morning.
Neighbors said they first thought the slide was an earthquake, but then looked behind their house and saw the damage.
The slide was reported at 9:37 a.m. near Montgomery and Lombard streets.
Resident Melissa Hansen sent us the below and to the right. She lives on the fourth floor of the Parc Telegraph apartment building.
The rocks landed on a car parked behind the building, but noone was hurt.
As a precaution, the fire department evacuated the second through fourth floors of the apartment building closest to the slide.
Mohammed Nuru with the San Francisco Department of Public Works told Bay City News that a geotechnical engineer and a geologist will assess the stability of the hill. "It's one of the largest slides I've seen," Nuru told BCN.
A previous slide in 2007 affected the other side of Telegraph Hill, near Broadway and Vallejo Street.
There is no estimate yet for when the rocks will be cleared, but the residents of six units whose apartments back up to the hillside are being kept out of their homes for now.
Crews will be putting up a concrete barrier to stop some of the loose debris from shifting further, Nuru said.
Bay City News contributed to this report.