Connie Ulasewicz's life has been fashioned around fashion for quite some time.
There was a first a career in garment manufacturing followed by more than 20 years teaching at San Francisco State University. Ulasewicz is currently the Chair of the Consumer & Family Studies/Dietetics Department which includes Apparel Design and Merchandising students.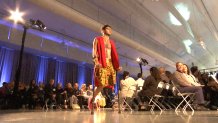 What it all means is that Ulasewicz has been a part of many, many runway shows. Still, Ulaseqicz says, she had never been a part of one like the show she hosted this past weekend.
"I'm surprised it hasn't happened before," Ulasewicz said, "but we're going to do it!"
For the past few months, fashion design students at SFSU have been creating specialized garments, not just with form in mind, but with a function: help make one disabled person's life a little bit better.
"It has reinforced what garments and fashion are to me because to me the purpose of clothing is to enhance our well being on the earth," Ulasewicz said.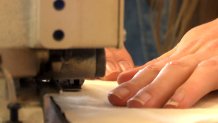 Ulasewicz said the idea for the project originally came from Phyllis Wong, wife of SFSU President Leslie Wong. The department reached out for volunteers from among SFSU's students and staff with disabilities, then paired the willing models with two design students. The students' task was to work with their model to create a garment that, in some way, improved their life.
School administrator Gene Chelberg was paired with students Erin Fuller and Kinsey Thomas.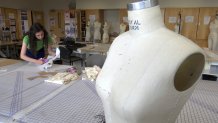 Chelberg is known around SFSU, not just for his seeing-eye dog who helps him navigate around campus, but for his sense of style. He is rarely seeing without a suit, tie, and suspenders. The appropriate outerwear for such an outfit would be an overcoat, but therein lies his problem.
Overcoats don't normally come with hoods and, as a blind man with a service dog, Chelberg is unable to use an umbrella when it rains. "When you work with a seeing eye dog, they are trained to avoid overhangs and overhead obstacles," Chelberg said. "So, if you walk around with an umbrella you are going to defeat that training."
So Fuller and Thomas designed a practical, waterproof, stylish hood to match Chelberg's favorite overcoat.
"They did an amazing job," Chelberg said.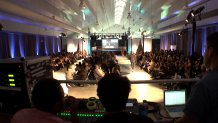 Chelberg then showed off the finished product at the universities annual fashion show.
His was just one of ten collaborations that were featured on the runway that evening.
There was a skirt created from a material designed not to ride up for a woman in a wheelchair, a pair of shots tailored specifically for a young man with one leg, and a snug-fitting, stretchable jacket for a veteran with PTSD. Being able to put his hands into the pockets and rub and press his hands again the material, he said, helps him relax during times of stress.
Ulasewicz says the collaboration has been a wonderful experience for not just the models with disabilities, but her students as well. The future fashion designers agree. They say the project has infused in them a desire to always weave a little good in all the work they do.
"We're trying to make sure that people with disabilities know that fashion hasn't forgotten about them they are a part of our community," said design student Stephanie Schmidt.