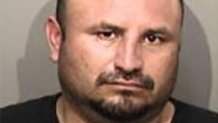 Oakland police announced on Wednesday the arrest of a 17-year-old Hayward son following a double homicide, attempted murder and fire earlier this month, days after his father was arrested in relation to the same crime.
The arrest of Francisco Hernandez Jr., who will be charged as an adult with two counts of special circumstances murder, one count of attempted murder and one count of arson, comes less than a week after Oakland police arrested Jesus Hernandez, 37, in the same case.
[[309378611,C]]
Prosecutors and police allege father and son were both behind the Aug. 8 fiery deaths and injuries in the 9900 block of Empire Road near the Oakland International Airport.
Police and prosecutors say that Hernandez duo killed Juan Ramos and Alfonso Ibanez Jr. while they were sitting in their car about 1:45 a.m. They also allege that the elder Hernandez pulled Miguel Cruz out of the car and punched him, before shooting him, putting him back in the car, and setting it on fire, according to court documents. Video at the scene showed a car on fire burning outside a light-colored house swarming with police officers.
A motive was not released.