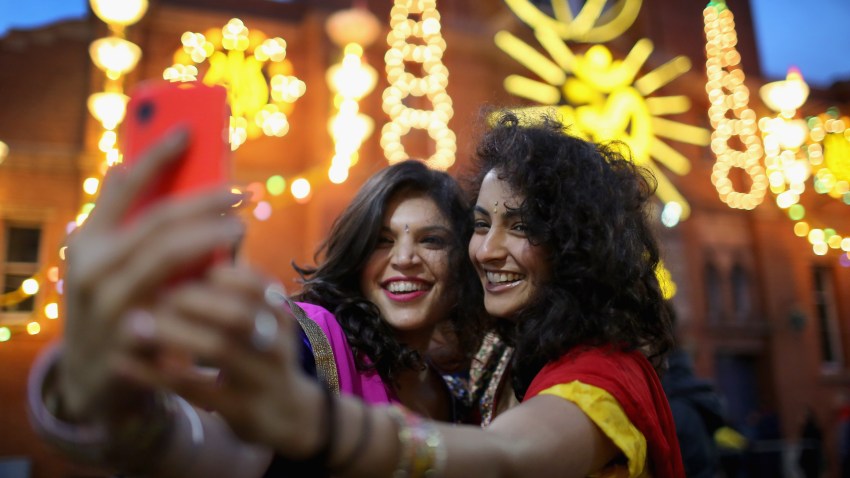 Happy Diwali!
Diwali is a Hindu celebration of spiritual light. The five-day festival, which kicks off this weekend, also recognizes Lakshmi, the Hindu goddess of wealth.
Hindu believers, Indian-Americans and many others will celebrate at events throughout the Bay Area. Below is a list of local festivals and gatherings, with descriptions from event hosts.
Diwali Dhamaka 2016 Open Mic Karaoke
Oct. 28
7:00-10:30 p.m.
Amador Rancho Community Center
San Ramon
Dress code: Traditional Indian attire
$15 adults, $10 kids
Includes Diwali dinner buffet
Diwali Dhamaka
Oct. 29
6:30 p.m.- 9:30 p.m.
Titan Gym, Gunn High School in Palo Alto
Hosted by Melange
Come for Dance (Bollywood and Garba), with DJ music, enjoy Indian food and sweets, arts & crafts and Henna
Tickets on sale here
Stanford Diwali Celebration
Oct. 29
4:30 p.m.-Midnight
Memorial Church & White Plaza
Stanford University
Get excited for a whole night of celebrating with a pooja, procession, performances, delicious food and dancing! Everyone is welcome, no tickets required!
Bollywood Halloween Costume Party
Oct. 29
10 p.m.-1:30 a.m.
M Asian Fusion Restaurant
San Jose
Dress up in your favorite halloween costumes and celebrate Diwali and Halloween with us
$10 Tickets, 21 and older
Diwali Festival of Lights
Oct. 29
5:30-8:30 p.m.
Anubhuti Meditation and Retreat Center
Novato
Live dance, candle light ceremony, children's presentation, talk, meditation, live music, vegetarian dinner, music concert with devotional songs by Sharad Gupta
Registration requested: anubhutiretreatcenter.org/event
Madhuban Diwali 2016
Oct. 30
6 p.m.
M Asian Fusion Lounge
San Jose
$39 adults, $19 kids
Fun, Food, Family & Friends thats what the Festival of Lights is all about! Live local Bollywood singers!
Diwali Celebration Festival of Lights
Oct. 30
8 a.m.-11 p.m.
Jain Temple
722 S. Main Street
Milpitas, CA 95035
RSVP Required
Diwali and Chopda Pujan
Oct. 30
4:30-8 p.m.
BAPS Shri Swaminarayan Mandir
Milpitas
The ceremony, known as Chopda Pujan, will take place in the evening. Hundreds of new account books – in a variety of paper and electronic forms – are sanctified through the showering of flowers petals and rice grains amid the chanting of Vedic hymns and prayers.
Kids' Diwali Celebration
Oct. 30
11:30 a.m.-6 p.m.
BAPS Shri Swaminarayan Mandir
Milpitas
At the BAPS Children's Diwali Celebration, the traditional rituals are combined with insightful explanations and hands-on learning to engage a younger audience. Children participate in events ranging from games to stage shows. This event is specially designed for children to make early memories of celebrating Diwali with their families and friends.
Diwali Indian Dinner: Festival of Lights
Nov. 1
6-8 p.m.
International House
UC Berkeley
$15
Enjoy a lavish buffet of Indian delicacies and see our Dining Hall transformed with festive lights, candles and decorations.
Grand Annakut Darshan
Nov. 5
11 a.m. – 6:30 p.m.
BAPS Shri Swaminarayan Mandir
Milpitas
The day following Diwali is the beginning of the Hindu New Year. The Hindu New Year is traditionally celebrated with the Annakut – literally meaning, a mountain of food. Every year a wide variety of unique thals (vegetarian delicacies) are offered in devotional gratitude for the past year and to seek blessings for the New Year ahead. The Annakut offering includes hundreds of items of food, snacks, sweets, pickles, spicy dishes, salads, fruit drinks and other items devotionally prepared by devotees. We cordially invite you for darshan of the Grand Annakut with family and friends.
Fall Family Fiesta
Nov. 6
India Community Center
Milpitas
11 a.m. to1 p.m.
A Blend of Indian-American Festivals! Kids will participate in a rich variety of festive activities - including making diyas, lamps and rangoli art, Face Painting and Unique Harvest Activity!
Children will also make meals for a local homeless shelter.
$5 per child, Free for ICC members
Saratoga Diwali 2016
Nov. 12
6:30 p.m.
Saratoga Community Center
Saratoga
$25 tickets
Get ready for a fun-filled entertainment evening with a live band, awesome food, and much much more!
Tickets on sale here