Crews late Tuesday suspended the recovery of a small plane that crashed in a rural area of Alameda County.
A body was also found at the scene of the wreckage and officials believe it is likely the pilot and owner of the plane, 60-year-old John Sacco.
Search crews located the wreckage earlier in the afternoon on Palomares Road in Castro Valley, Alameda County Fire Department spokeswoman Aisha Knowles said.
At 11:25 a.m., the plane was traveling at 74 knots, but slowed dramatically to 39 knots a minute later, sources told NBC Bay Area. The pilot reportedly lost contact with air traffic control three minutes later, sources said.
Federal Aviation Administration spokesman Ian Gregor said air traffic controllers lost radar and radio contact with the plane, a Piper PA-32, about 12 miles east of Oakland International Airport around 11:30 a.m.
The Alameda County Fire Department received reports of a downed aircraft, which was traveling from Lincoln in Placer County to Oakland, at 12:02 p.m., Knowles said.
Sources said that the plane's tail number is N323PA. The single-engine aircraft belongs to Sacco, a well-known businessman in the Sacramento-area, who was appointed to the California Occupational Safety and Health Standards Board in August.
Sacco's LinkedIn profile indicates that he owns Earthshine Consulting, which is based in Rocklin. There is no word yet on whether he was flying the plane when it went down.
Firefighters from both the Alameda County and Livermore-Pleasanton fire departments searched for the plane with assistance from Cal Fire, the Alameda County Sheriff's Office and East Bay Regional Park District, Knowles said. Officials, unable to use choppers due to inclement weather, instead relied on ground crews and a drone to look for the plane.
"The best situation for us to find a plane is to deploy another aircraft to find it," Alameda County Sheriff's Office spokesman Sgt. J.D. Nelson said. "But today with the fog and the rain made it very difficult."
Two Alameda County firefighters suffered non life-threatening injuries during the ground search for the downed plane.
It is not known what caused the small plane to crash near the Sunol and Castro Valley border. Aviation expert Mike McCarron said there are many factors, including weather, that come into play when an aircraft goes down.
"It's very changeable," McCarron said of weather conditions. "It's a critical factor for any tpe of plane, whether it be commercial or general."
Tuesday's incident comes two days after another single-engine plane, carrying a family of five from Gilroy, crashed near Bakersfield.
Crews are scheduled to resume recovery efforts of the plane wreckage in Castro Valley on Wednesday morning.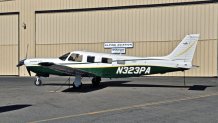 Bay City News contributed to this report.