Amid the painfully slow rebuilding in the burned-out neighborhoods of Santa Rosa, arose recently a strange sight no one had seen there before.
On the once-blackened acres of the Paradise Ridge Winery, a bevy of artists and volunteers spent a Saturday installing a 30-foot tall boot that looked straight out of a Mother Goose's There Was and Old Woman Who Lived in a Shoe.
Winery owner Walter Byck watched the flurry of construction with a bemused smile — staring up from a lounge chair at the tall crane slowly lowering pieces of the boot into place.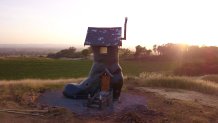 "This sort of makes it a view with a smile," Byck said, gesturing toward the vineyard-covered ridge that looked out on the devastated neighborhood of Coffey Park.
Across Santa Rosa, there has been little to smile about since last October's firestorm. In addition to the more than five-thousand homes that burned nearby, the fire claimed two of the winery's main buildings and three houses.
What survived, Byck proudly pointed out, was the winery's collection of large-scale art sculptures, including the now-famous sculpture that spells out L-O-V-E, which some took as a symbol of the area's resolve.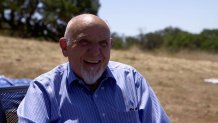 The shoe being installed by artist Bree Hyklema and the art collective Five-Ton Crane was unusual even by Paradise Ridge's standards. The 30-foot structure, which was originally built for the Burning Man Arts Festival, featured a shingled roof with windows a door and even a chimney. The group filled the inside with treasures such as custom-made books hollowed out with art inside. The art piece had moved to several installation sites and the artists needed a new home for it.
"They asked if I had a place for the shoe," Byck said. "Well, of course, the answer's got to be 'yes,' right?"
The installation, which Hylkema titled Storied Haven, was on a truck on its way to the property the day the wind-swept fires ripped through the area. The artists persuaded authorities to let them drop it off on the winery's grounds. But it would take more than seven months for installation day to finally arrive.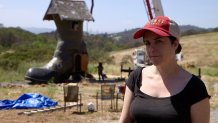 "We're installing it here as part of the rebuilding of Santa Rosa," said Hylkema. "The beauty of the spot and warmth of the family really endeared us."
Artist Peter Phibbs, who narrowly escaped the fire as it tore across Paradise Ridge, said art is an important component of the rebuilding process as a way to lift the spirits of people who have lost so much.
"Through this tragedy," Phibbs said, "we can heal, rebuild. And it's no longer fire victims — fire survivors and then fire creators of a whole new story."
The embers of the October fires were still smoldering when Byck vowed to rebuild, even though many of his neighbors remain unsure about returning. Among the structures, he planned to rebuild was a more than century-old historic building.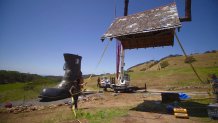 "I would like to think we're not continuing," Byck said. "We're going way ahead of where we were before."
Hylkema said she was encouraged by Byck's desire to continue populating his large-scale sculpture garden with the boot.
"I think there's very something very hopeful about that," Hylkema said. "They're planning events at Paradise Ridge now and thinking about what's next."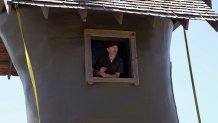 The winery has not yet reopened to the public. But Byck said when it does, he plans to devote the 100-acre sculpture garden as a place where non-profits and charities can hold fundraisers, generating funds for many projects such as supporting fire victims. Instead of getting the boot as a symbol of someone's ouster, Byck hoped her boot would serve as a welcoming symbol.
"When non-profits and other people want to have an event here," Byck said, "one of the reasons they'll probably want to be here — they'll have the shoe waiting for them."