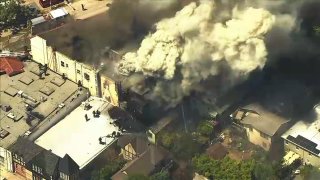 Firefighters are battling a 3-alarm structure fire in Oakland Monday afternoon.
The blaze is burning along the 4200 block of Park Boulevard, according to the fire department.
Two workers on the roof of the building were rescued, the fire department said on Twitter. No injuries have been reported at this time.
Roughly 60 fire personnel are at the scene.
The cause of the fire is not known at this time.
Further information was not immediately available.
This is a developing news story. Stay tuned for updates.