An unhoused man was arrested Wednesday on suspicion of starting a fire at a church near San Jose State University, the fire department said.
Zachary Willars, 41, was identified Thursday as the suspect in the arson fire at St. Paul's United Methodist Church, at 405 S. 10th St., that left the interior with significant damage, police said.
Witnesses at the scene alerted arriving police officers to the person suspected of starting the blaze, according to the fire department. That same person was identified as Willars, and he is expected to be charged with arson.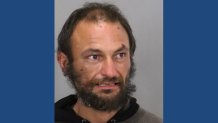 "I'm very saddened but we're a resilient and historical church," said Pastor Helen Kung, who added that church building was built in 1958, along with a tall organ that was destroyed in the fire. "We'll continue to do what we do and be a solution in the world. All the things that are damaged can be repaired and replaced."
The nonprofit that runs out of an adjacent building was empty too, but an employee locking up smelled smoke and called 911.
"We are daily dealing with mental health issues and homeless issues and our philosophy is to walk into it, and be a solution to those issues," said Kung.
Ann Clark has been going to the church since 1976.
"That's over 40 years. We raised our family in this faith community," she said. "Somehow or another it happened, and my concern would always be that's got to be a troubled person. We'll figure all that out too."
Four other churches reached out to the pastor within hours to offer their buildings to host the Saint Paul services. For now, they'll continue to worship in a separate chapel or outside.
The church's message is one of hope – and forgiveness.
"There's a song that we use that goes 'the church is not a building. The church is the people in it.' so that's what we believe and that's what we'll do," said Clark.
No injuries were reported.