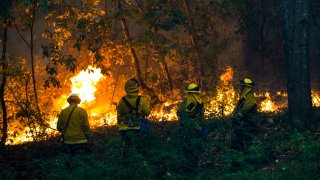 Multiple fires burning in San Mateo and Santa Cruz counties scorched 86,509 acres and were 100% contained Tuesday, according to Cal Fire.
You can view a Cal Fire map of current incidents here.
The fires, which are collectively referred to as the CZU August Lightning Complex, started Aug. 17, Cal Fire said. The flames destroyed 925 residences, damaged 90 residences and threaten more than 3,800 other structures.
As of Tuesday evening, the flames were 100% contained, Cal Fire said, and about 1,000 people remained under evacuation orders.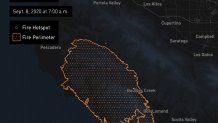 Officials said a 63-year-old woman was found dead inside the fire zone in the Santa Cruz Mountains, the second death related to the destructive blaze.
One of the reported missing persons in the fire, 70-year-old Henry Reinke was found, Cal Fire said. Two others remain missing.
Firefighters identified a 73-year-old man killed in a fire on Last Chance Road in Santa Cruz County as Tad Jones. His body was found Sunday near his vehicle in Davenport.
A spokesperson for Cal Fire said that it took a helicopter to recover the body from the heavily fire-damaged area.
More than 350 firefighters are working to stop the spread as San Mateo Sheriff's deputies went door to door evacuating several communities. Three out of the 350 firefighters were transported to a local hospital with injuries, but are expected to be OK.
Cal Fire urged people to not enter the evacuation zones as it takes firefighters away from battling the blaze.
California State Parks announced Sunday it's closing all campgrounds at state parks and beaches in Santa Cruz and San Mateo counties due to safety concerns as the CZU Complex Fire continues to burn through the region. Closures will go into effect Monday and are expected to last until August 31. Reservation holders will be given a full refund.
If you need assistance with your pets, you can contact the Peninsula Humane Society & SPCA.