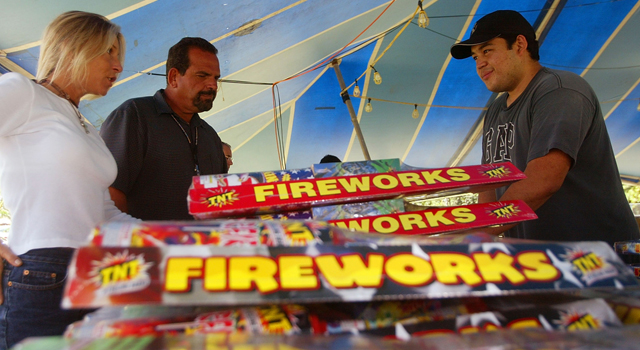 Fireworks stands are firing up for business in Alameda County, and come noon today, you can buy all the Devil's Delight, Solar Glare and Wildcat Fountains your heart's desires.
The fireworks for sale are the so-called "Safe and Sane" ones, deemed legal by the state fire marshal because they don't explode or fire into the air.
This year, many folks will buy fireworks because there will be no formal fireworks where they live after many community fireworks shows were snuffed by budget cuts.
But even if you buy legal fireworks in Alameda County, that doesn't mean that they are legal where you live. Check with your local fire department or online for fireworks restrictions in your community.
Even the legal fireworks can be dangerous if set off improperly. Experts say they are only legal on private property and under adult supervision and only between Wednesday of this week and Sunday the Fourth of July. Though the "Safe and Sane" kind don't explode, they are still dangerous so keep water nearby and the kids and pets away.
This is fire season, and just in time for the Fourth of July, NBC Bay Area meteorologist Craig Herrera says we can expect a warmup.