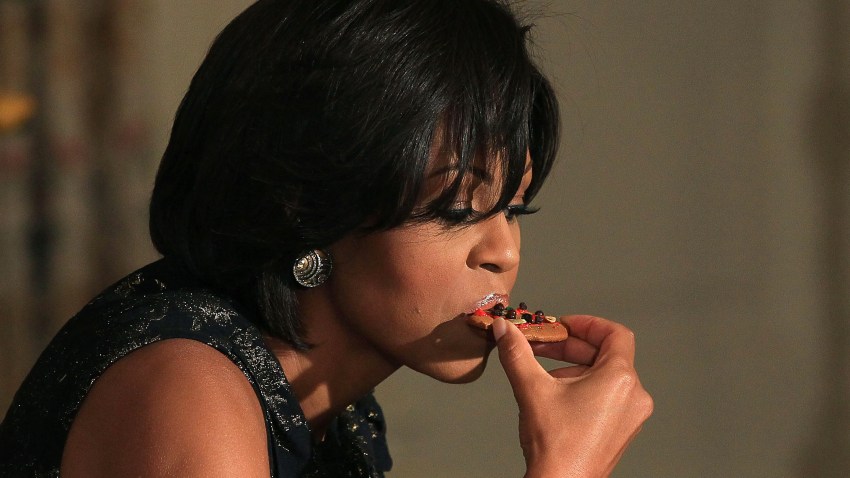 First Lady Michelle Obama will be in the Bay Area next week raising money for the Democratic Party and her husband's reelection campaign.
Michelle Obama will host two breakfast events next Tuesday in the East Bay. There are reports she may hold a third lunch event in San Francisco later in the day.
First up is an early morning gathering at the Golden State Warriors' practice arena in Oakland. Then she will host a breakfast at Berkeley's Claremont Hotel. General seating starts at $1,000.
The food at both East Bay events will be prepared by Bay Area chef Alice Waters. Waters and the Obamas are close. You may remember Waters helped the first family plant a garden in the backyard of the White House.
Waters will serve a locally produced breakfast of course.
According to the Bay Citizen the meal will feature organic ingredients from local farmers and purveyors and will specifically include garlic toast.
Congresswoman Barbara Lee will be there. Lee said the East Bay will be sure to put out the welcome mat.
"I'm delighted that the First Lady has accepted my invitation to visit the East Bay," said Lee. "We plan to provide a very warm welcome to her next week."
The visit comes just two months after Mr. Obama visited the Bay Area to raise money for his re-election campaign and just eight months after the First Lady was last here raising money for the Democrats.

In April, the president held a town hall forum at Facebook before heading to the City to take part in a $38,500 a plate dinner at the home of Salesforce.com CEO Marc Benioff.

The Bay Area has helped the president and his party outpace the Republicans in the early fundraising season.

In the first month of Obama's re-election campaign, the Democratic National Committee raised about twice as much money as the Republicans.