They all had guns, and they were ready, willing and able to use them if they met any resistance. That's how Contra Costa County prosecutor Barry Grove described the six young men arrested in several East Bay home invasion robberies.
The six suspects are scheduled to be arraigned Friday morning in Contra Costa County court on charges including criminal street gang conspiracy. They are Tarell Brown, 19; Ronald James Fluker III, 19; Bobby Ray Williams, 20; Marrico Teyon Williams, 19; Tommie Ray Woods, 19; and Torion Demonte Young, 18.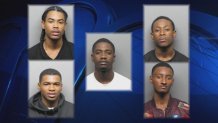 Starting in March, Grove said, the men targeted at least five homes, including one robbery caught on surveillance camera in Fremont. Other charges include home invasion, burglary and in one case a carjacking that touched off a high-speed chase through Contra Costa County.
"They go in with various handguns, and if the residents are home, they take what they need by force," Grove said. "If the residents aren't home, they take what they need and move on."
In a break-in in Livermore last week, the victim, Greg Brehm, said he'd just returned home after his mother passed away that morning and found his house had been robbed.
"It could have been worse," Brehm said. "I could have been home; I could have been harmed."
An Orinda couple was harmed on Sept. 26 in a case police say has not yet been connected to the suspects. In that home invasion, men dressed in Halloween masks shot Orinda resident Carol Brown twice and pistol-whipped her husband at their home, police said. While prosecutors have not charged the men in that case, police are looking at a possible connection.
A Livermore resident, who did not want to be identified, says she's incredibly shaken. She started to cry as she told NBC Bay Area how the intruders broke into her house last Thursday while she was home upstairs. Luckily her dog started barking and chased them out.
"He's my hero," she said.
The crooks made off with some of her jewelry. They also attempted to take her purse but dropped it outside.
"It feels like an act of terror. They terrified me," she said, adding she's very relieved to hear of the arrest. "I feel so much better to know they're caught."