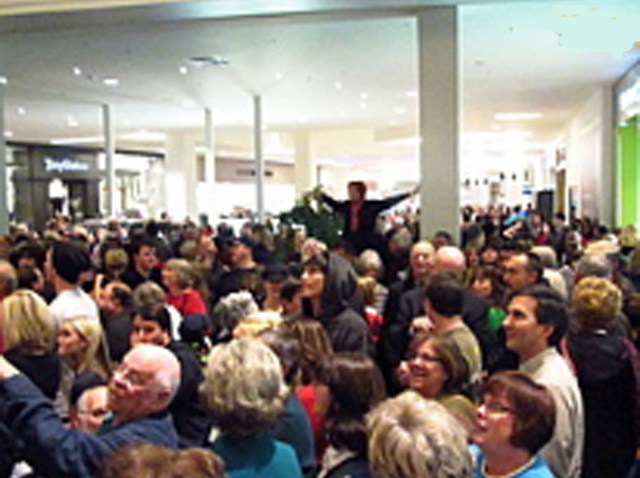 What sounded like a gift of the Christmas spirit turned into a few panicked moments Monday night outside Sacramento.
It all started with a flash mob event by a Northern California choral group.
Apparently the social networking circle of the Sacramento Choral Society & Orchestra is larger than expected because thousands of people turned out to see and hear them perform at the Westfield Galleria in Roseville. So many people showed up, mall security ordered an immediate evacuation fearing a possible structural failure.
"Several folks heard two pops happen, and then several other people felt the floor shift," a fire official told KCRA in Sacramento.
Flash mobs often gather to sing or carry out some kind of "impromptu" performance. Below is an example of this same kind of performance successfully pulled off in Canada.
The trouble started when some in the thousands of people who gathered said they heard creaking and shaking in the building.
Fearing the mall might be damaged, officials said they decided shut down the shopping center.
Singers reassembled outside to serenade the evacuees, but it wasn't the same.
This same mall is having a bad holiday season. It was heavily damaged by a fire in October.
Instead of having a big shopping night, the mall had to close early Monday.
KCRA reported that engineers inspected the building and determined it to be safe. It opened as usual Tuesday morning.