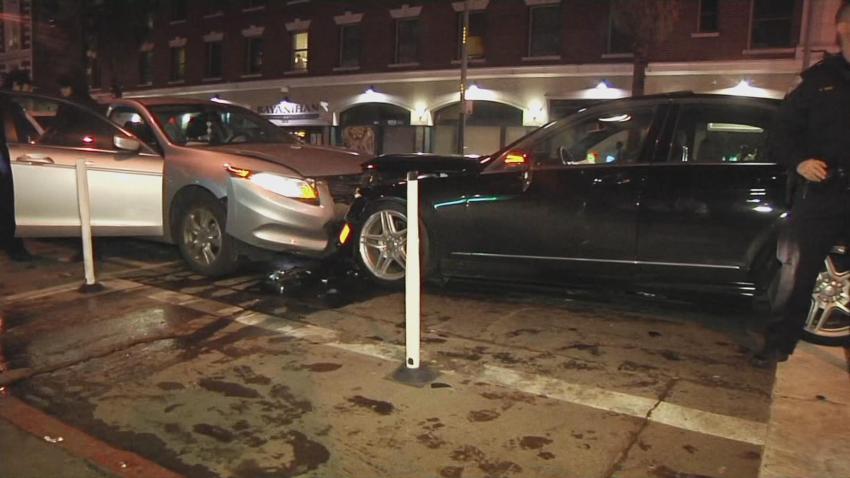 Former California Assemblyman Tom Ammiano, a community activist, a cab driver and a police officer were among the victims of a hit-and-run Mercedes driver over the weekend, causing a mess of mangled cars in the middle of the Mission District.
Luckily, no one was critically injured in the Saturday evening pileup at 1008 Mission Street. The police officer, however, went to the hospital, and Ammiano's friend, Kimberly Alvarenga, a political director at Service Employees International, suffered a gash over her head.
"I'm so-so," she said after the crash.
Ammiano, who is a legendary LGBT activist and also past president of the San Francisco Board of Supervisors, told NBC Bay Area he and Alvarenga were on their way to a Filipino community event when they were one of about five vehicles that were broadsided by a Mercedes about 7 p.m.
"I'm just glad we're OK," he said. "We're a little shaken. We were at a red light. We barely had enough time to just hold on."
Police Sgt. Monica MacDonald said that officers were able to catch up with the suspect after he ran and struggled with them and even tried to grab an officer's gun.
She said the Mercedes was also wanted in connection with an earlier attempted aggravated assault when the driver tried to run over an officer.
Several bystanders witnessed the hit-and-run, which left several cars in the middle of the street, their car horns blaring after having been set off by the impact of the crash.
"He ended up making a mess," witness Richard Butler said of the Mercedes driver. "He came straight through and plowed into all the cars."