Foul play is suspected in the case of a missing husband and father in San Francisco, police said Wednesday, and they have identified a person interest.
Piseth Chhay, a 48-year-old Uber driver, has been missing since Mother's Day, and his wife said his phone has been turned off.
The person of interest is named Bob Tang and is known to Chhay's family. He was the same person Chhay was supposed to meet the day he went missing, police said, and is believed to be the last person to see Chhay.
Tang, 48, had agreed to come in for an interview with police Tuesday but didn't show, police said. Tang's family now says he's missing. Police believe he may have fled to Cambodia.
"He was scheduled to be interviewed Tuesday with our missing person investigation unit," Cmdr. Greg McEachern said. "We believe he has left the country."
Tang left his home in San Francisco on Monday night when contacted by an alarm company, police said. He was believed to have responded to a residence in Antioch regarding an alarm activation and has not been seen or heard from since.
Tang is described as an Asian male, about 5 feet, 4 inches tall, weighing 130 pounds, with brown eyes and black hair. The vehicle associated with Tang is a 2004 Silver Toyota Sienna SUV, with California license plate 5JOT221, police said.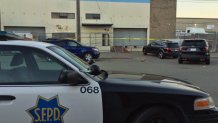 Chhay's vehicle, a Mercedes Benz SUV, was found stripped Friday in the city's Bayview neighborhood, and police believe it may have been moved there. Officers served a search warrant Tuesday at a nearby business called Maple Trade Corp. at 1280 Van Dyke Ave., police said. Alameda County Sheriff's deputies joined the search with cadaver dogs, police said.
Searches were conducted at two other locations, one in Antioch, police said.
Though he was not working on the day he disappeared, Chhay, a father of two, told a relative that an Uber customer had left a phone in his vehicle, and he wanted to return it.
A Chhay family spokesperson said earlier Wednesday they would be posting more fliers and searching again this weekend. They're hoping the public can help with any information that might bring their loved one home.
Anyone who has seen either Tang or Chhay or has any information regarding their whereabouts should contact San Francisco Police via the anonymous tip line at 415-575-4444, or text a tip to TIP411 with SFPD at the beginning of the message.