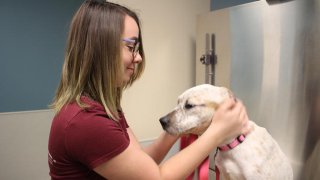 The following content is created in partnership with Hill's Pet Nutrition. It does not reflect the work or opinions of the NBCUniversal Owned Television Stations editorial staff. Click here to learn more about Hill's Pet Nutrition.
Seven-month-old Olive was dangerously emaciated when she arrived at Wayside Waifs, one of the largest pet adoption campuses in Kansas City, MO. Thanks to a combination of loving shelter care plus premium nutrition provided by Hill's® pet food, it took just three weeks for her to transform into a happy, healthy dog with a new "forever" home.
This same miracle happens every day at shelters across the country. On Saturday, August 17, Wayside Waifs and other animal welfare organizations nationwide will host the fifth annual Clear The Shelters pet adoption drive, which offers a second chance for stray and surrendered animals in need of caring families and secure homes.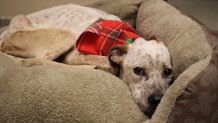 When Olive arrived at Wayside Waifs, she had been found alone on a golf course and picked up by Belton Animal Control. Her condition was dire, recalls Jessica Miller, the center's canine care manager. "She was extremely malnourished. We saw every bone, every rib. She weighed 14 pounds but should have been 30, 35 or even 40."
A well-meaning bystander might think a dog that skinny should be given as much calorie-rich food as possible. But the shelter's medical team knew Olive's digestive system wouldn't be able to handle a dramatic increase in food intake. To help her reach a healthy weight in the safest way, they put her on a careful regimen of Hill's® Science Diet® puppy food.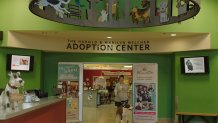 Wayside Waifs often receives animals who are "frail, physically abused, traumatized or coping with medical issues," Miller says. At intake, each dog or cat is scanned for a microchip and given a complete physical and behavioral assessment to determine next steps. This could be a fast-track to the adoption center for some, or a recommendation for ongoing support from veterinarians, behavioral experts, staff and volunteers for others. Regardless, every new arrival receives science-based nutrition from Hill's that's targeted to their age and underlying conditions.
Proper nutrition made an enormous difference for Olive. Just 10 days after her arrival, she was bright-eyed, energetic and a healthy 15 pounds heavier. "Once she started to gain the weight, Olive began to understand what being a dog is like," Miller says. "With the right diet, you see an amazing transformation in a short time. Their coats grow back. They get more pep in their step."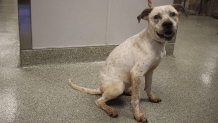 For shelter pets, a thick, shiny coat can be an indicator of overall good health—and also much more. Prospective families often consider physical appearance when meeting a shelter pet, along with factors like age, size, breed and reason for being at the shelter. Behavior plays a role as well: for example; dogs who raise their eyebrows and readily accept invitations to play tend to be more easily adopted, as are cats who rub against furniture and toys. Wayside Waifs does everything possible to create an environment that fosters positive behavior and empowers the kind of transformation that helped Olive find her forever home.
When Olive left Wayside Waifs with her new family, she took along a bag of her favorite Hill's® pet food as a parting gift. Maintaining the same diet can ease a shelter pet's transition to a new home, Miller explains, and also help avoid digestive issues. Once a dog or cat has settled in, she recommends asking a veterinarian for guidance on selecting the right Hill's® pet food that will maintain their health and happiness for years to come.
Dedicated to providing cats and dogs with groundbreaking, science-based nutrition, Hill's Pet Nutrition helps feed over 100,000 pets every day in 800+ North American shelters through its Food, Shelter & Love Program. Hill's is a proud sponsor of NBCUniversal Owned Television Stations Clear The Shelters nationwide pet adoption campaign, which placed over 100,000 animals in loving homes last year. This year's campaign starts in late July and will culminate on Saturday, August 17, when shelters across the U.S. will waive or reduce their pet adoption fees to help more shelter pets find homes. Visit HillsPet.com for more information about Hill's products and click here to learn more about Clear The Shelters.