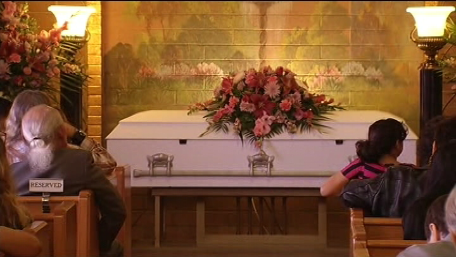 The funeral for a teenage girl who was fatally shot alongside her best friend in Oakland last month will be held Sunday afternoon.

The funeral service for 16-year-old Bobbie Sartain who was fatall shot with best friend 15-year-old Raquel Gerstel is scheduled to occur today at 3 p.m. at Colonial Chapel in Oakland.
A Rosary and viewing for Raquel began at 11 a.m. Sunday and is scheduled last until 4 p.m.at Coopers Mortuary in Oakland.
Raquel's funeral will be held Monday at 10 a.m. at St. Jarlath's Church in Oakland.

The girls were shot and killed around 6 a.m. on Sunday., Nov. 25 near Brookdale Park in Oakland.

According to police interviewed by the San Francisco Chronicle, at least 36 shots were fired. Raquel was "full of bullets," and found crawling around crying for help. Bobbie had bullet wounds in her face and back, according to witnesses who arrived on the scene.

The two girls were Oakland's 114th and 115th homicide victims of the year.

Police are investigating the case but have yet to make any arrests.