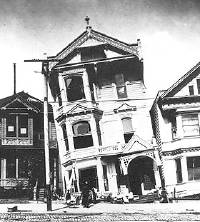 San Francisco Mayor Gavin Newsom is officially going hard line on soft stories now, introducing legislation that would mandate seismic retrofits on buildings with large windows or garages on the ground floor.
While the mayor has historically been lukewarm on the idea — he supported voluntary retrofits, and even offered exemptions from future mandates if owners bit — numbers published several months ago made the a pretty strong case for mandatory upgrades. It might cost around $260 million to make the fixes when all's said and done, but that's compared to about $1.5 billion in damages if nothing's done.
At this point, it might be a little shrill to bring up Haiti, as Board of Supervisors president David Chiu did, but the point's been taken. While the mayor's office explores how to put the legislation together, we know a few things: there'd be low-interest loans for building owners, and, naturally, a potential penalty for not doing the retrofits if they're necessary. In any case: construction stimulus!
· Soft-story retrofits to become mandatory [SF Examiner]
· Seismic retrofit mandate set to move forward [SFGate]
· Seismic Retrofits [Curbed SF]
· The Hard Line on Soft-Story Buildings: Fix Them [Curbed SF]
Copyright CURBS