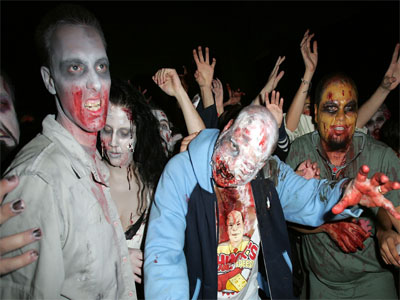 HALLOWEEN HAUNT: Take your family -- costumes and all -- to Ed Levin County Park Friday night for some Halloween Eve ghoulish fun. Play games, carve pumpkins and take a creepy hike around the pond. Meet at the ranger's station Friday at 5 p.m.
SPOOKY HALLOWEEN CAMPING: Find yourself between a rock and a hard place, literally, at Pinnacles National Monument with the Outdoor Adventure Club for a weekend camping trip. Go rock climbing with professional guides during the day then settle in for a haunting night among the wildlife. Bob for apples, play glow-in-the-dark volleyball and share spooky stories around the fire. Don't forget your costume for the contest Saturday night.
STREET TAG IN THE CITY: Think back to the days of playing tag with your friends in the street then multiply it by 100 and add the lights and sights of San Francisco. Be part of Journey to the End of the Night, when everyone's (teens and up) invited don an orange ribbon and race from specified checkpoints by foot or public transportation. You'll be pursued by chasers and if you're caught, you'll become one of them. Top finishers and best costumes win prizes. Meet at Justin Herman Plaza at 7 p.m. for the adrenaline-pumping event.
Going to any of these events? Do share! Sound Off with your Bay Area fun time on So Bay. It's quick and easy to register and you can upload moments right from your smartphone.