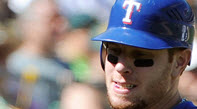 Josh Hamilton's going to be a huge name on the free-agent market this offseason. And according to a report, the Giants could be contenders for the superstar outfielder.
Yes, we're getting WAY ahead of ourselves here and for a variety of reasons -- it's the regular season, the Giants have much baseball left, the Rangers have much baseball left, Texas has an exlusive negotiating period and on and on.
But HamBone is too big a name not to examine the possibility, which was first raised by Buster Olney of ESPN.
"Asked some execs this week where they think Josh Hamilton will land in 2013 (and beyond) and one NL official put in a strong vote for SFG," Olney tweeted this week.
Earlier this week Olney broke down prospective suitors for Hamilton when he hits the open market this offseason by polling various executives. One exec believes the Rangers are stuck to "a defined set of parameters" for what they want to offer the 31-year-old Hamilton and it won't be enough to land him.
Olney came up with a list of eight teams -- the Cubs, the Orioles, the Braves, the Nationals, the Mariners, the White Sox, the Tigers and the Giants -- who could potentially chase after Hamilton.
At the time, he also guessed that if "San Francisco has interest in Hamilton, it will be conservative."
And here's where it could get interesting: because of the smaller market for people chasing after an older superstar, it's possible that someone like the Giants could end up landing him on a shorter, expensive deal. Obviously Hamilton will want a long-term deal at $20-plus million a year, but there are some risks that could scare teams off.
For one, he's older. Hamilton will turn 32 in May, which means anything five years or longer puts teams at significant risk of paying him during his decline. Especially since, for two, he's a recovering drug addict. There's obvious relapse risk there, but the more damaging risk might actually be the additional aging that using drugs for a number of years could've created for Hamilton's body.
It's a very long shot that the Giants end up landing Hamilton. San Francisco might not be an ideal place for a recovering addict to live what with the city's, ahem, liberal views of the world. Additionally, the Giants might not benefit as much from adding Hamilton as a team in a more homer-friendly park. And Hamilton might not have any interest in playing in AT&T.
Then there's the fact that the Giants have whiffed pretty badly on paying free-agent hitters, might be more interested in locking up other members of the roster and/or finding a cheaper, safer option.