It seemed as if no one went to work on Wednesday. At least no one who cared anything about baseball. Especially Giants baseball.
Crowds began to clog BART and Caltrain early in the morning. Hundreds and thousands of - and maybe even a million or more - people lined San Francisco's Market Street and later, at the Civic Center, all to watch the World Series-winning Giants strut their stuff at a citywide celebration and parade.
Confetti blew in the breeze, broadcasters danced "Gangnam" style and the crowd went ga-ga over the studly baseball players who swept the World Series Sunday night against the Detroit Tigers. It was the Giants' second World Series win since 2010.
"This was our dream...to be the World Series champions," the bearded Giants pitcher Sergio Romo told fans at the Civic Center. "And we wouldn't have that dream without you. You need to be proud. We are all World Series champions."
The crowd went nuts for Romo, and the rest of the team. But the fans were juiced all day, starting from the wee hours of the morning, even when the rain was pouring down, because they wanted a front row seat. The official parade and celebration lasted four hours.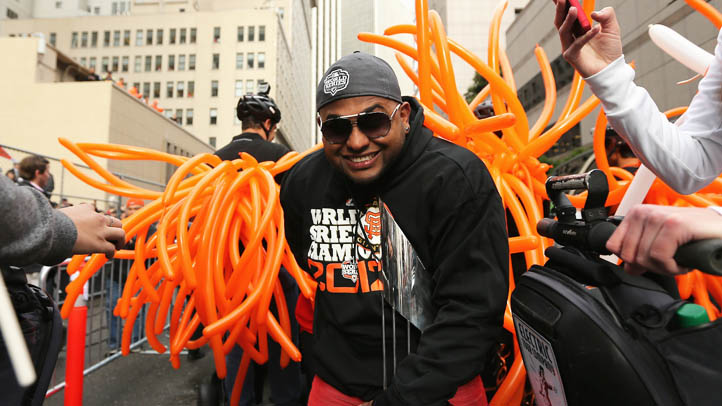 The energy just kept growing all day long. It grew when baseball legend Willy Mays drove by during the 11 a.m. parade, followed by Giants General Manager Brian Sabean. And that energy seemed to explode when the actual Giants stars began rolling down Market Street. Matt Cain, Tim Lincecum, Angel Pagan and the rest of the crew - some with wives, babies and children in tow - all received thunderous cheers as they passed by the throngs of fans. Even the confetti seemed to fly higher when the team drove by.
"This is crazy!" Giants second baseman Marco Scutaro, who made the last hit in the last inning during the winning game, told reporters at the parade. "We've made so many people happy. This is what you live for. I'm just trying to enjoy it right now."
Fans definitely were full of joy.
Mark Bloom, a huge Giants fan and a rabbi at Temple Beth Abraham in Oakland, took the day off to watch the parade with his sons, Micah, 12, and Jonah, 10. He and two other fathers and their children left from BART's 12th Street station in Oakland and arrived to San Francisco before 8 a.m.
"We got the last front row seat," Bloom said.
Bloom attended the 2010 festivities when the Giants won that year, and didn't bring his boys.
"I never heard the end of it," Bloom said. "I got a mulligan this year. School is important. But life is important, too...to be part of a celebration that an entire city is celebrating. It's a wonderful feeling to remember forever."
Bloom wasn't the first one in line, for sure. Plenty of people took public transportation to San Francisco. The Caltrain Diridon station's parking lot in San Jose was full early in the morning. BART broke its all-time daily record of 522,000 riders, which was set during the World Series of 2010 - with ridership of more than 568,000 commuters.
Despite the early morning rain Wednesday pelting down on San Francisco, there were those die-hard Giants fans who slept overnight and lined up along Market Street before the sun came out. Marcia Simpson from Pacifica has been a fan since 1965. She said she just had to come early and get a front row spot to be able to see her favorite players revel in glory. Other fans climbed atop signs and poles to catch a better glimpse of the parade.
Elysha Martinez drove from Phoenix. "I drove 12 hours," she said, "to represent my team. I'm tired, but it was worth it."
It seemed to be worth it for the players, too. They graciously took interviews and shook hands. They spoke humbly and with pride about their team and their city. Perhaps Barry Zito, the left-handed pitcher who had a rough run until his amazing comeback during the playoffs, summed it up best.
"The lows have been low and the highs have been high," Zito said. "And this is a high right now. It is such a blessing."
Stephanie Chuang, Bob Redell, Christina Loren, Diane Dwyer and Laurence Scott contributed to this report.