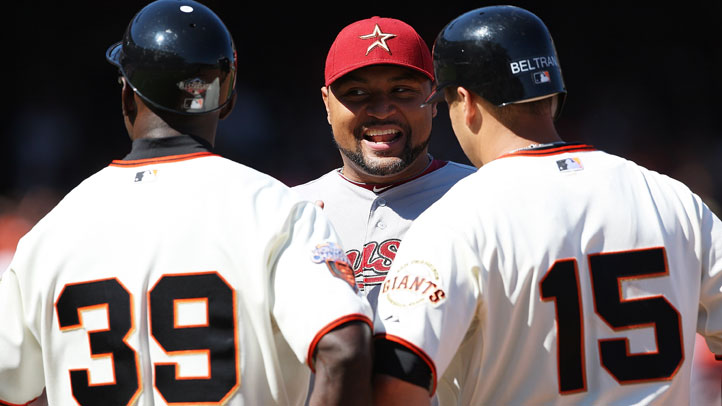 Real talk: Los Angeles is white-hot right now. The freaking Dodgers still have the freaking best record in baseball, but they're a) only 4.5 games ahead of the Giants and b) playing the Angels over the next two days.
While those games are being played, the Giants will square off against the Astros. Houston is, quite improbably, not one of the three worst teams in the National League. Though at 26-34 (ahead of only the Cubs, Rockies and Padres), they are also not one of the best.
The 'Stros have a lot of guys -- Jed Lowrie, Jordan Schafer and Jose Altuve namely -- playing above their heads on offense, which is how they're averaging 4.35 runs per game, which is much better than the Giants. Of course, one of their best hitters, Carlos Lee, won't be playing in this series.
They are not as good preventing runs, however. Houston gives up 4.82 runs per game, third-worst in baseball, thanks to only having one above-average pitcher in Wandy Rodriguez.
So this series is a ... giant opportunity to say the least.
In the first game of the series Bud Norris will square off against Madison Bumgarner. This could be a matchup between the Giants and Astros. Or it could be the finals of a Professional Bull Riders contest. Whatever, it should feature some strikeouts, as both guys have strikeout-per-nine ratios north of seven.
Worth mentioning: after a hot start (that we probably jinxed), BumGeezy's cooled off significantly. He's got a 4.17 ERA over his past six starts, only two of which were quality. Of course, the good news is Bumgarner's pitching at home, where his ERA (2.50) and control (9.00 SO/BB ratio) have been much better than on the road (3.89 and 2.33 respectively).
Of course, Norris isn't afraid to get shelled: he's given up 16 earned runs in his last 12.1 innings pitched.
In the second game, J.A. Happ (4-6, 4.54 ERA) will square off against Matt Cain. If Matt Cain pitches like Matt Cain's pitched for most of the season and the Giants somehow lose this game, you should probably break something. That should be sufficient to cover this matchup, yes? (If not, how about this: 10 Astros have batted against Cain. Collectively, they have six hits.)
It's the third matchup of the series that could really help the Giants make a push in the division. They have to bat against Wandy, who's a good left-handed pitcher. The Giants aren't as good against lefties and they've got their own guy on the mound in Barry Zito.
The biggest deal is that the Dodgers are off on Thursday, which means that if everything breaks the Giants way over the next two days, they could close within two games of the division with a win here.
I'll predict this: a quality start from Zito and the Giants sweep. Yes, I'm all in on my "Giants will make up big ground on the Dodgers over the next few weeks" prediction, thanks for asking.