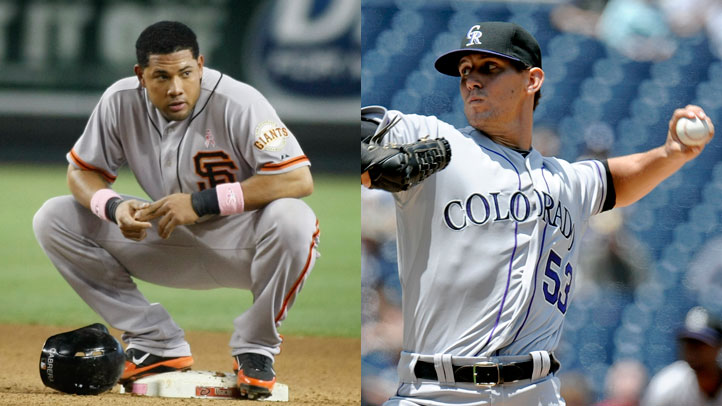 The Giants have won two-straight games, took a series from the Diamondbacks and the team still lost ground to the Dodgers in the NL West. Taking two from the division-rival Rockies would be a pretty nice little bonus at this point.
Game 1, Monday May 14, 7:15 p.m. PT: Ryan Vogelsong (1-2, 2.94 ERA) vs. Christian Friedrich (1-0, 1.50)
There's a serious temptation to break down this pitching matchup, but I can't get over the fact that Monday is basically "delicious food night" at AT&T Park:
You buy a ticket and you get to sample a bunch of awesome food. How can you not do this if you live remotely near the ballpark? GO!
Anyway, this could very well end up as a pretty good pitching matchup. Friedrich pitched well in his MLB debut as a starter, striking out seven and picking up a win against the Padres last week. The Giants are worse against left-handed pitchers (.240/.276/.364 in 22 games) and they've never seen the Rockies rookie before.
Vogey's pitched well also, limiting the Dodgers to just a single run in seven and a third innings during his last start. He did get an injection in his back so be wary of how he looks.
EDGE: Rockies
Game 2, Tuesday May 15, 7:15 p.m. PT: Tim Lincecum (2-3, 5.89) vs. Jeremy Guthrie (2-1, 5.92)
Lincecum's been terrible against the Rockies this year, so be very scared. On the other hand, he's got a sub-4.00 ERA against the Rox for his career, though he's certainly worse against Colorado than he is any other NL West opponent.
Guthrie started out the season OK but has been getting shelled lately. And here's even better news: FOUR current Giants have a home run against him. Aubrey Huff, Nate Schierholtz and Brandon Crawford have all hit jacks against Guthrie (what a group, huh?) and Melky Cabrera absolutely owns Guthrie.
In 34 plate appearances, Melky's sporting a .382/.382/.676 line with a homer, eight RBI and five doubles. He should continue his hot streak here.
EDGE: Giants