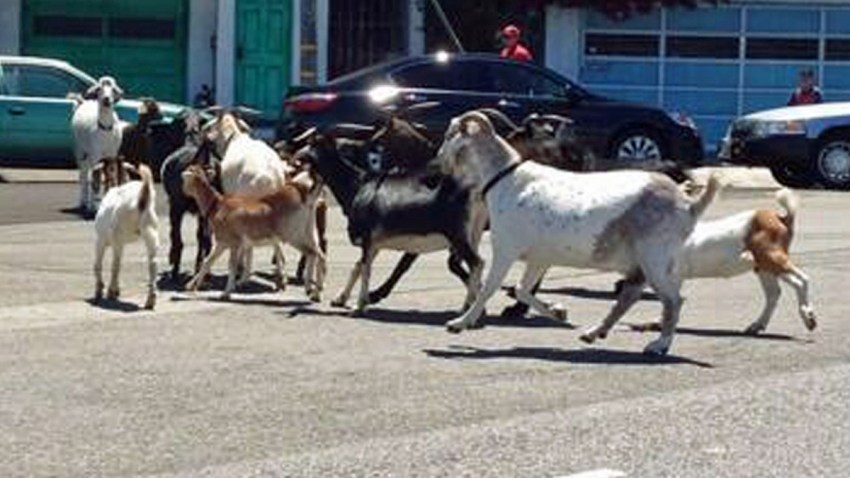 Seventeen brush-munching goats were rescued after getting loose and roaming around near U.S. Highway 101 in San Francisco's Bayview District late Friday morning.
The goats were brought in to clear up brush and broke loose from the area they were grazing in, according to a city Animal Care Control captain.
A call came in around 11:15 a.m. about goats on Bayshore Boulevard, ACC Capt. Denise BonGiovanni said. One of the goats even tried walking onto Highway 101.
NBC Bay Area viewer @Bayviewheight tweeted out a picture of six goats skipping across Paul Avenue in Bayview.
"It was truly an exciting day here in the Bayview," @Bayviewheight tweeted later.
California High Patrol officers and a few goat herders could be seen rounding up all the goats -- even carrying one of them -- and putting them into a City Grazing trailer about 12:45 p.m.
The group could be seen shaking hands at the end of the ordeal, obviously relieved all the goats turned up safe.
According to City Grazing's website, the company is hired for goat landscaping projects around the city, according to BonGiovanni.
The goats had been grazing near Key Avenue and Bayshore Boulevard when they got through fencing that keeps the animals away from the highway, according to BonGiovanni.
One goat got onto northbound Highway 101, but avoided injury when traffic slowed and ACC officials were able to remove the goat from the roadway, she said.
Another 16 goats were found wandering in the neighborhood. ACC officers were able to contain the herd near Bayshore Boulevard and Wheat Street and the City Grazing herder was called to the scene.
San Francisco police were called to the area to block traffic, she said.
The goat herder arrived with a pickup truck to round up the goats, but while trying to load the goats they were spooked and almost escaped again, she said.
The ACC asked him to return with a trailer and the 17 goats were safely loaded and returned to their home on Cargo Way, she said.
"No humans or goats were injured today," BonGiovanni said.
@nbcbayarea here is a picture of the goats on the loose.. pic.twitter.com/sGBgIWWNVW — Bayview, S.F. (@bayviewheight) June 27, 2014
@bayviewheight Make that about 10 goats loose. pic.twitter.com/T5QRYqh2Zx — Bayview, S.F. (@bayviewheight) June 27, 2014
Bay City News contributed to this report.