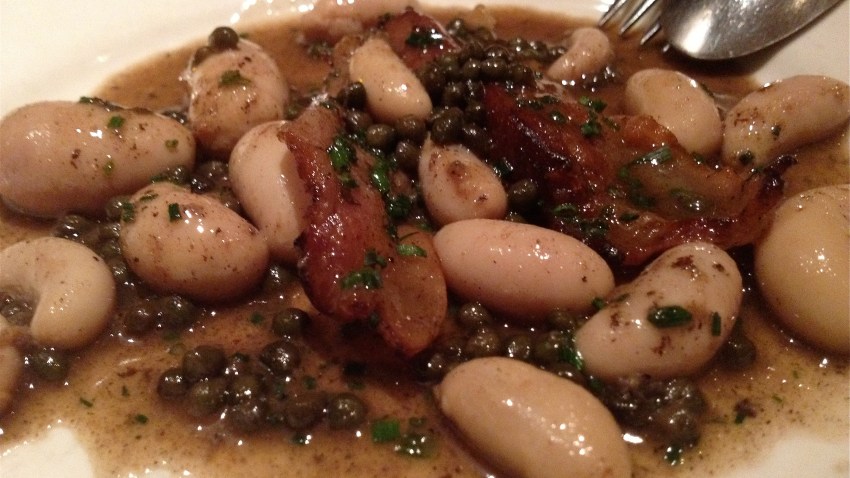 Beguiled by a Twitter missive about sea urchin pasta issued from chef Chris Cosentino, Good Taste raced to his San Francisco restaurant Incanto earlier this week to try the special.
Cosentino's wild imagination and extreme resourcefulness produces limited quantity specials like this for his "Odds and Ends" board on a near-constant basis, but they're often fleeting and don't stick around past one night. The chef is not known for wasting, instead creating inventive dishes utilizing whole animals, or at least many parts that Westerners aren't used to eating. His website is called Offal Good, named after entrails and internal organs.
Though a penne pasta made only of semolina blended with sea urchin and extruded is not a safe bet for a lot of diners, it felt like a tame choice as its gentle umami flavor mingled with a light dressing of oil, Meyer lemon, and chervil. Another Odds and Ends special called duck fries was ordered as an additional course to share, but it didn't arrive until after the pasta. What could take so long for potatoes fried in duck fat?
The answer is that Incanto's duck fries aren't made of potatoes. When a plate of what looked like white beans laced with black lentils and bacon dropped on the table, it seemed like the order had been screwed up.
"What are these?" we asked.
"They're, um, the male duck's reproductive organs," was the shy reply.
The responsibility belonged squarely with the orderer, an incredible rookie mistake considering past food adventures we've had with Cosentino, including eating raw beef heart and mayonnaise made of pig brains. The server explained that he thought we knew what we were doing by ordering duck fries since we came in already knowing about the sea urchin special.
An adrenalin-filled shot of pure fear brought on a slight case of body shakes while taking in the thought of what was happening. It took a while to dive in, but in the end, the combination of flavors in the duck fries play very well together. The texture, however, is surprisingly beanlike after the pop of "casing" and a little bit difficult to navigate.
But it was a proper meal at a restaurant that, at its best, evokes terror right along with the thrills. After all, what's so different about eating duck fries than pasta made from female reproductive organs (the "edible" part of sea urchin)? Cosentino's ability to warp one's brain and then bring it back to Earth is a singular sensation.
A return visit to Incanto won't be far off, but a few more questions will be asked next time.