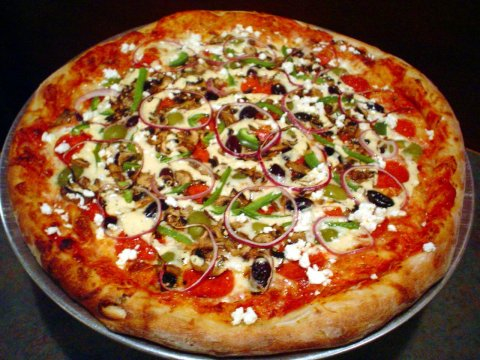 A flamboyant character called Pimp-A-Roni will soon be roaming loose on South and East Bay streets. The pizza slice tricked up with a purple feathered hat and diamond-studded cane is the mascot for the Pizza Pimps, a food truck expected to launch in the next few weeks.
Owner Phil Woodman has installed a stone oven inside the vehicle to cook what he deems are "New Cal gourmet style," an amalgamation of a soft and chewy New York-inspired crust and California craziness. He'll sell by the slice with six varieties at any given time, but he says he's cooking up over 100 different ideas for pies. He won't forget the timid and will have plain varieties like cheese and pepperoni, but he's also betting customers will enjoy combinations like Philly cheesesteak, pesto shrimp, and Thai chicken.
Woodman says the truck will be parked at special events thrown by the Food Truck Mafia and will make regular appearances in Union City, Newark, Pleasanton, Fremont, Milpitas, Los Gatos, Campbell, Willow Glen, and San Jose, including home games for the San Jose Earthquakes soccer team. Follow the truck's Twitter feed for specific dates and times.
Incidentally, the side of the Pizza Pimps Truck informs that it is available to rent for kids' birthday parties. If you engage its services for such an occasion, though, you might want to request that they don't serve some of their more risqué varieties; Woodman says they're planning special pizzas called the Booty Call, Snoop Doggi Style, and Kamana Wana Lei Ya.