Google is sending out a critical message to Bay Area schools about texting and technology.
The technology giant partnered with the Alum Rock Union School District Friday on a "Google Good to Know" workshop at Fischer Middle School in San Jose to share tips and tricks about how to stay smart and safe online.
Although 90 percent of teens are already online, very few have been taught how to protect themselves and their personal information, workshop organizers said. Teens post 40 million Instagram photos every day and upload 100 hours of video to YouTube every minute, organizers said.
Most students attending the workshop said they used Instagram, Snapchat, Twitter and Facebook almost daily.
Fischer principal Howard Greenfield told NBC Bay Area that the school has faced issues with students sharing their personal passwords with friends.
"You could be best friends one day and the next day you are not, and you have shared that password, and then you have to deal with some of the issues that arise from that," Greenfield said.
One of the messages Google shared with students Friday: Socialize with friends but keep some things to yourself.
"I think this is very important because there is a lot of stuff going on and if you post too much personal things, people know where you are and what you are doing," said eighth-grader Jocelyn Rivas.
On March 10, Brentwood police officers were dispatched to Adams Middle School after students were caught exchanging inappropriate images using their cell phones.
According to police, several students, ranging in age from 12 to 14 years from Adams, Bristow and Edna middles schools in Brentwood were using their cell phones to exchange semi-nude images of themselves. Officers said one boy even used the photos to blackmail a girl into engaging in sexual acts on campus.
School district officials have been working with Brentwood police to educate parents and students about cyber bullying and Internet safety.
At the Google workshop, staff showed videos to about 900 students and 50 parents about how to set a strong password, spot online scams and make smart choices about the information shared online and on social media.
"Sometimes she does come up to me and tell me that someone texted her or something telling her that they know her, and they are usually men," said Nelia Morin, mother of 7th grader Nancy. "I tell her just don't respond to those emails."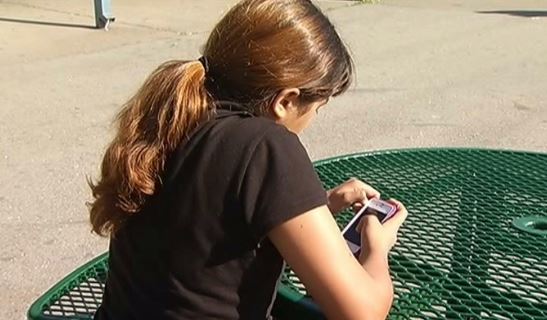 Google spokesperson Jamie Hill told NBC Bay Area that workshop staff usually ask students to do "the grandparents test."
"We ask them, 'would want their grandparents to see what you were posting,' just helping them realize what they post online might affect their position on the soccer team, a summer job, or even college."
NBC BayArea staff contributed to this report.