What's old will be new again in Sacramento starting Monday.
At a low-key 11 a.m. ceremony at Memorial Auditorium, Gov. Jerry Brown was sworn in as the state's 39th governor. It was the third time for Brown, who also served as the 34th governor from 1975-1983.
Brown was in his 30s the first time around, and is currently 72 years old.
Few details about the inauguration were released ahead of the event other that it would last about a half hour. It turned out to be a short-and-sweet affair with little policy discussion.
Instead Brown looked back on the history of his own family dynasty. He also used the event as a platform to thank family and political friends. Outgoing-Gov. Arnold Schwarzenegger and former-first lady Maria Shriver, former-Gov. Gray Davis and his wife, Sen. Dianne Feinstein and her husband, and outgoing-House Speaker Nancy Pelosi and her husband were among those in attendance, and all had front row seats.
Clearly the state's budget mess is his highest priority. The Associated Press noted that California's "finances are in a deep hole and its politics are riven with deep partisanship that has made compromise on major budget issues all but impossible."
Gov. Brown said he will release his budget for the coming fiscal year next Monday and it is expected to give voters and lawmakers a list of stark choices. He said his budgets would not contain "smoke and mirrors," an apparent reference to spending plans signed by his predecessor.
"It's a tough budget for tough times," Brown said.
California has a $28 billion budget shortfall through mid-2012, and that number is expected to rise with new project shortfalls coming in the days, weeks and months ahead.
Lots had been written about the huge changes in Brown since he first served as governor. One of those changes is his marital status. Brown married former-Gap executive Anne Gust Brown five years ago. She is often mentioned as a very silent and large influence and is expected to play a prominent role in his office. It was enough for Prop Zero blogger Joe Matthews to write about the possibility of her becoming Brown's Chief of Staff.
One of the other changes Brown noted himself on Monday was the fact that he took the oath with his hand on a Bible. He said he had not done that before, adding the Bible was his wife's grandfather and that he also used it at their wedding.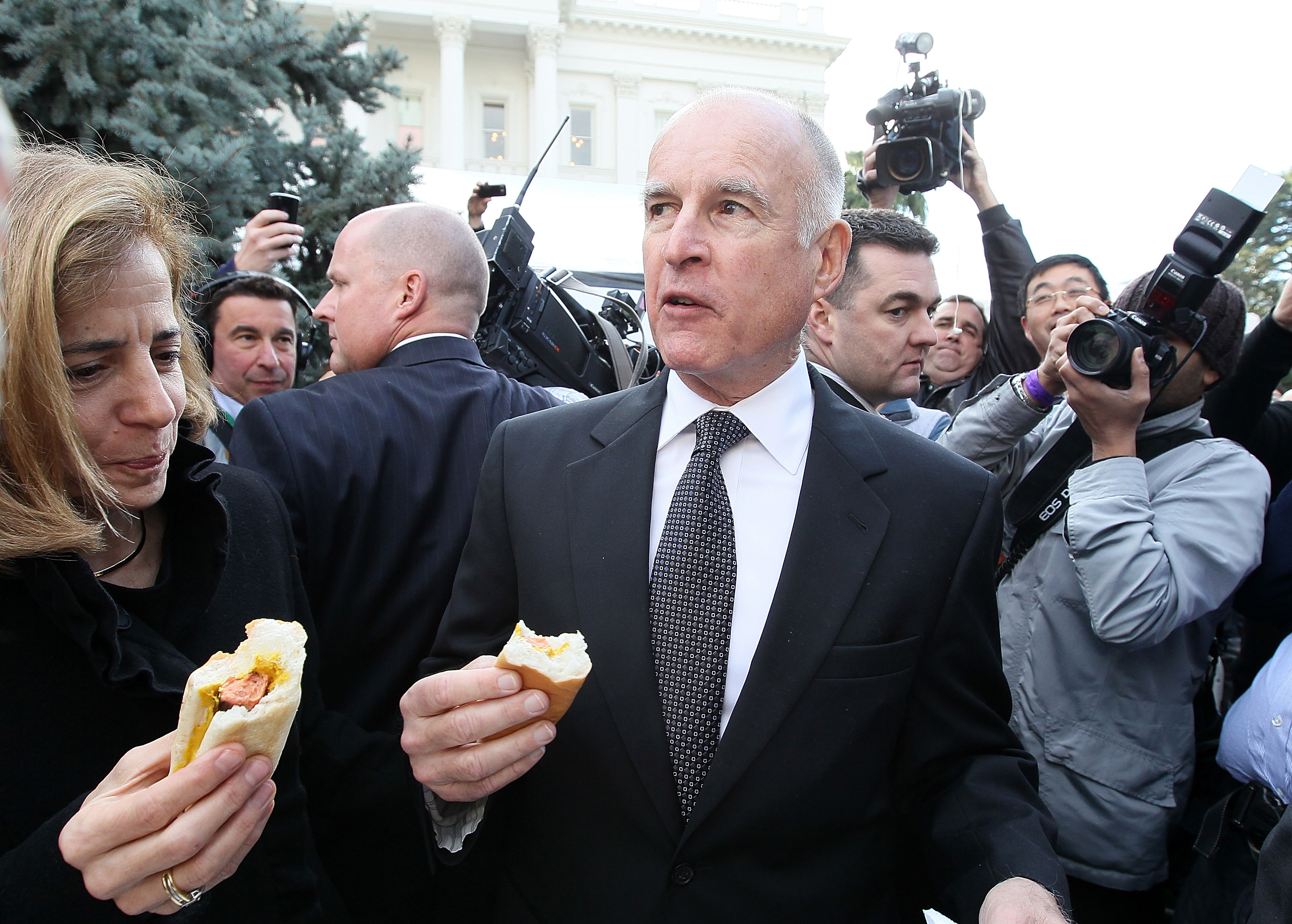 The new governor ended the event with a low budget lunch out on the lawn. The main course was hot dogs.