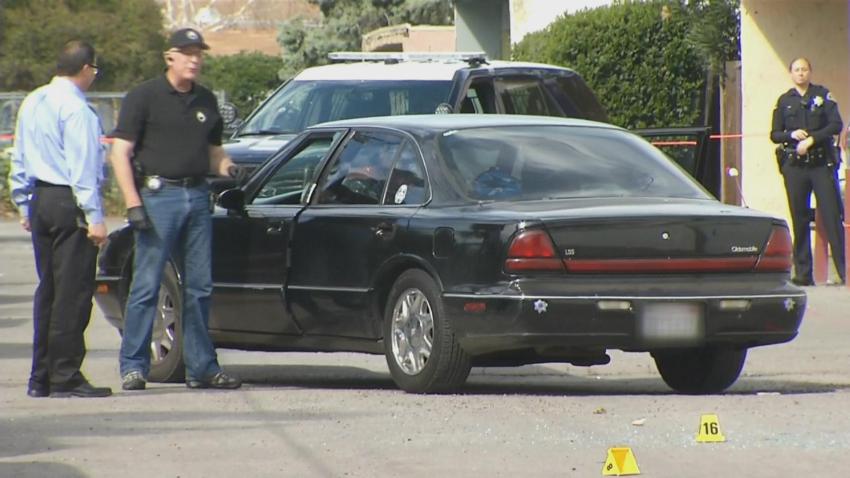 A gunman is on the run in San Jose, police say, after shooting and killing a man who was sitting in a car — that belonged to his roommate and needed to be parked — in the city's Almaden Valley neighborhood.
The owner of the 1993 Oldsmobile Cutlass sedan apparently let his son borrow it, who in turn let his roommate borrow it, police said. They did not want their identities disclosed but say they believe Sunday's incident is a random act of violence.
"My son uses my car," the man said. "He was coming home from work. His roommate went out to park the car for him, rolled up back here to find a parking space and somebody shot him."
San Jose police took to Twitter around 4:30 a.m. Sunday to say that they were investigating an apparent homicide on the 5600 block of Via Monte at Carlsbad Drives near Pioneer High School.
Police said officers were dispatched to the area around 3:45 a.m. on reports of a car crashing into a pole.
Upon further investigation, police said officers discovered an adult male that had been shot inside the vehicle.
"Nobody was chasing him," the car's owner said. "It was just [that] somebody was out, looking to do damage."
The victim, who has not yet been identified, was pronounced dead at the scene, according to police.
"It looks like he died as a result of the injuries from the gunfire but it is unknown what happened after that," San Jose police Lt. Greg Lombardo said.
Agreeing that it was "an unusual time to be out at night," Lombardo said there is no indication that the incident was "gang-related."
However, neighbors say the area is dangerous and has been dubbed a "crime zone."
"It's not surprising for us," said one neighbor who asked not to be identified. "There are strangers in the alley, gangsters and drug issues."
Meanwhile, Lombardo said that there was "nothing in [the victim's] history that would result in this."
A witness told NBC Bay Area about four people — one of whom was armed with a gun — roaming the neighborhood in dark-colored clothing around the time of the shooting.
Investigators are following up on a number of leads and canvassing the neighborhood, but a suspect has not yet been identified, Lombardo said.
Anyone with information about this incident is asked to contact the San Jose Police department (408) 947-7867.
Bay City News contributed to this report.
Copyright BAYCN - Bay City News