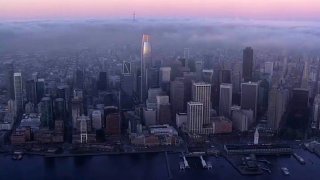 Nothing ruins a Halloween costume like rain, but luckily, the National Weather Service is reassuring Bay Area trick-or-treaters that Sunday evening should be dry.
The agency's "Trick or Treat Forecast" for the Bay Area is dry and mild. Ghosts, witches and others with flowing costumes needn't worry about blowing away: only light winds are predicted. Light rain is predicted for later in the evening, after the door-to-door visits are over.
Suitably for a spooky evening, the coast and the North Bay will be mostly cloudy. Fewer clouds will be in the South Bay and the central coast, according to the weather service.
Forecasters said there is a chance of precipitation late Sunday night, continuing into early Monday morning, with a 50-60 percent chance of light rain.
The North Bay likely will see about three tenths of an inch of rain, while the East Bay and San Francisco should see a tenth to two tenths of an inch. The South Bay will see little or no rain, the weather service said.
More rain is expected to come to the Bay Area next week.
Copyright BAYCN - Bay City News