The Hayward Unified School District board during a meeting Wednesday night decided to close two schools next year and put a pause on possibly shuttering four more over the following two subsequent school years.
Trustees decided Bowman Elementary and Strobridge Elementary would be shut down next year because of declining enrollment, district officials said. Hayward Unified has lost thousands of students in the past few years and is facing a $14 million budget deficit.
Initially, the board had planned to vote on the possible closure of as many as 14 campuses over the next three school years. But the proposal was revised to six closures before Wednesday night's meeting.
Also the original proposal sent students from eight schools to 18 different schools, and that part was revised to transfer students from five schools to 21 different schools in the district to cut down on travel.
The decision on all other campus closures remains up in the air.
The move comes as district leaders say families are pulling their kids out of the district in record numbers, and the plummeting enrollment is impacting funding. Hayward Unified officials project an all-time low of about 16,500 students enrolled within the next several years, and at the same time, the district is facing the massive deficit.
Below is the revised plan: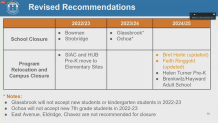 The district's proposed overhaul includes closing older school buildings in need of repairs and shuffling students to more modern facilities. But layoffs for teachers and staff have not discussed as part of the restructuring.
Wednesday night's vote came after several public forum meetings that started last month. Parents and students will have a chance to once again voice their concerns when voting continues for now-tabled Phase 1 and Phase 2.